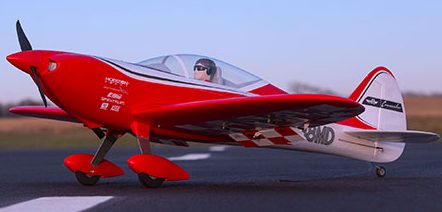 A new sport flyer from E-Flite the Commander mPd combines the talents of two aviation designers one from the RC world and the other from full scale aircraft design. The mix of the two bring a great flying and great looking sport classic.
Distinctive Design
David Payne and Mirco Pecorari drew from a wide variety full-scale and model aviation influences when designing the Commander mPd park flyer. They wanted it to stand out from the crowd yet still possess all the pilot-friendly flight characteristics that make traditional sport planes so much fun. In the process they also added little extras like a pilot figure as well as molded-in details like ribs on the wing and elevator, panel lines, fuel caps and more.
Wide Flight Envelope
A powerful brushless power system, light wing loading and factory-installed flaps work together to give the model a wide flight envelope. Control response is so smooth and predictable that anyone moving up from a trainer will feel comfortable right away. More experienced pilots will find that aggressive aerobatics like rolling circles and knife-edge flight feel crisp and precise and can be performed with power to spare.
Brushless Power System and Functional Flaps
The powerful 15-size brushless motor is paired with a 45A ESC that can handle high-output 3S 2200-3200mAh LiPo batteries. All this available power, along with the functional flaps, gives the airplane impressive short-field takeoff and landing performance in addition to its other fantastic flying qualities.
Easy Assembly and Hands-Free Servo Connectors
Out of the box, it only takes 8 screws to complete initial assembly. After that, all you have are the 4 wing screws whenever you want to remove or attach the wings. You don't even have to touch the servo leads. An innovative Hands-Free Servo Connection System automatically plugs in the aileron and flap servo connectors whenever you attach the wing.
AS3X Receiver with Optional SAFE Select Technology
The model's AS3X (Artificial Stabilization – 3-aXis) receiver works behind the scenes to smooth out the effects of wind and turbulence. The result is a sense of stability and precision that makes you feel like you're flying an expertly tuned aircraft.
Find out more about the Commander mPd at over at E-Flite.