Download plans for the Micro Drake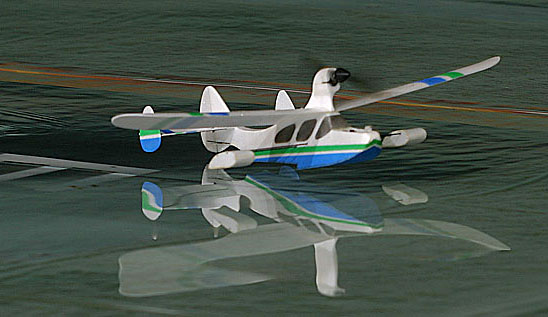 Thayer Syme designed his Micro Drake seaplane around ParkZone's 2.4GHz submicro equipment as introduced in their Minium Cessna Centurion. This diminutive flying boat spans 16 inches and weighs a scant .6 ounces. The Micro Drake will take off from a smooth surface such as a gym floor, and can even lift off the water in zero wind conditions. Download the plan offered here, and build your own Micro Drake for your backyard pool or the local school gym.
This full size plan uses 3 sheets of standard US letter size paper. Be sure that you print at actual size. There are no overlaps between pages, saving any alignment concerns. A scale appears on each version to ensure that your drawing is reproduced at the intended size. Of course you are welcome to print these plans at any size you prefer for your personal use. Just remember that all commercial rights are reserved, and any electronic distribution must cite www.flyrc.com as the source. More information and additional photographs of the Micro Drake appear on Thayer's personal web page, www.gryffinaero.com.