FLY RC MAGAZINE

FLIGHT

 REPORT

by Kevin Siemonsen
 

Durable, Agile and

just plain fun!

  

Junior S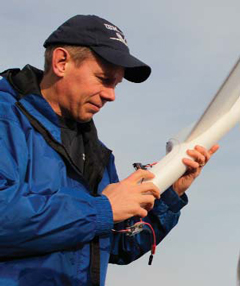 The Elektro Junior S is entirely constructed of injection-molded Graupner Solidpor foam. The kit includes the airframe, the Graupner Compact 345Z brushless motor, a Cam folding prop, spinner, all necessary hardware, carbon-fiber fuselage stiffener and wing spar, and photoillustrated directions with German captions. There was a small English section towards the back of the manual without photos. To be quite honest, the build was so straight forward all that is required are a few photos.
ASSEMBLY
The foam fuselage comes in two halves split vertically down the center length wise. The two-piece foam wing halves slide together on a carbon fiber spar. It interlocks without the need for tools and they are self aligning within the fuselage. The horizontal stabilizer is removable for easy transportation and uses a clever plastic hard point and single nylon screw. All control surfaces feature live hinges.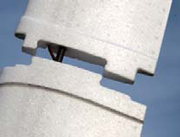 The wings key together inside the fuselage to keep from separating in flight. Note the carbon fiber spar tube.
This Graupner Elektro Junior S glider has to be the easiest assembly of any foam plane that Ive yet to assemble. Before you begin gluing anything together, you need to gather your radio system and servos. I am using my JR 12X with a Spektrum AR6110E receiver, and 4 Hitec HS-50 servos. I started out by adding an 18-inch lead extensions to the elevator and rudder servos and 24-inch lead extensions to the aileron servos. The servos fit perfectly in pre-molded pockets without any need for trimming or modifying. Channels are molded in the foam for running the servo leads, making for a clean install.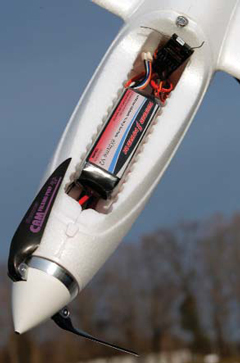 The Thunder Power 3S 2200mAh pack is a nice press fit, until you push too hard while inverted! I recommend adding a Velcro strap to hold it in place.
The pre-bent pushrods come at the correct length and were installed on the servos before mating the fuselage sides together. A threaded insert is glued into position on top of the vertical fin and provides the foundation for the horizontal stabilizers single nylon- screw mount. The aileron servos, as were the fuselage servos, are hot glued in place. A wide channel is glued into position and covers the aileron servo leads while providing a receptacle for the main carbon-fiber spar.
The canopy is retained with rare-earth magnets.
It is important to flex the live hinges on each control surface before installing control horns into the pre-molded receptacles in the control surfaces with CA. The radio compartment is accessed by a handy hatch that locks securely in place with a rare-earth magnet.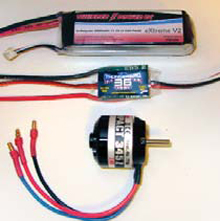 The Thunder Power battery, Castle Creations ESC and Graupner motor offer excellent performance for the Elektro Junior S.
The included power system consists of a Graupner Compact 345Z motor, Castle Creations 35-amp speed control and Thunder Power 3S 2200mAh LiPo battery pack. The installation of the motor was easy, as it is held in place with two screws. Once the motor was installed, I attached the folding prop and spinner. The radio compartment is very spacious. I attached the battery and speed controller with Velcro.
AIRBORNE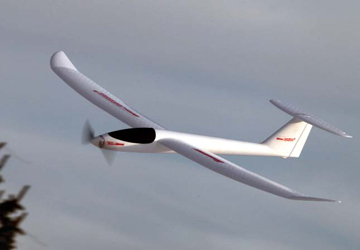 At last, our New England winter gave us a small break with suitable conditions for flying. The temperatures were hovering around freezing and there was a steady breeze. After checking the control throws, I applied full power and pointed the Junior S into the wind and released for a text book takeoff.
The power system had plenty of power for a 45- degree climb-out with respectable speed. It required a bit of up elevator trim because of the slightly noseheavy configuration. My initial impressions of the Elektro Junior S were that it had a super stable, smooth, trainer-like quality. It penetrated well and wasnt affected much by the breeze with the power on or off.
I performed several passes at various speeds and at no time was there any threat of a stall. I did intentionally force a stall and I found the nose to drop with a hint of tip stall. This plane is a stable platform that would be great for beginners. It is possible to program spoilers for slower approach speeds, but I didnt think it was necessary. Landings were uneventful with modest slide even on the snow.
Even though the Electro Junior S is deemed to be more of an upright flier, I did perform some graceful loops and rolls with ease. Rolling inverted proved to be uneventful until leveling from a shallow dive. I pushed hard on the elevator putting excessive negative G on the airframe causing the battery to jettison from the aircraft. My beautiful Electro Junior S was rendered powerless to the forces of gravity as it plummeted to the ground. Expecting the worse, as I approached the model, I was ecstatic to see that Graupner Solidpor molded foam did extremely well in absorbing the impact. With the exception of a single broken glue joint, the model was unscathed. You can be sure that on the next flight, the battery pack will have Velcro securing it in place!
SPECS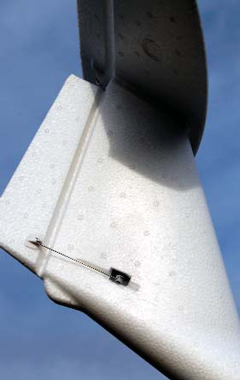 PLANE: Elektro Junior S
MANUFACTURER: Graupner
DISTRIBUTOR: Graupner USA
TYPE: Electric-powered glider
FOR: Beginner- intermediate
WINGSPAN: 74.8 in.
WING AREA: 517.7 sq. in.
WEIGHT: 31 oz.
WING LOADING: 16.7 oz./sq ft.
LENGTH: 44 in.
RADIO: 4 channels required; flown with a JR 12X transmitter, Spektrum AR6110E receiver, and 4 Hitec HS50 HB servos
POWER SYSTEM: Graupner Compact 345Z brushless motor, Cam 23x15mm folding prop, Castle Creations Thunderbird 36-brushless speed control, and 3S 2200mAh Thunder Power LiPo battery
FULL THROTTLE POWER: 37.6 amps, 385 watts; 12.4 W/oz., 198 W/lb
TOP RPM: 9,040
DURATION: 12-15 minutes
MINIMAL FLYING AREA: ball field
PRICE: $119.53
COMPONENTS NEEDED TO COMPLETE: Glue, hand tools, radio, power system, servo extensions
SUMMARY: Graupners Solidpor foam construction is tough stuff! Ive found that it is less prone to breakage as compared to other foam types. The Elektro Junior S offers more performance than one might expect from foamconstructed powered glider along with the gentle handling of a trainer. This entry level glider is as easy to fly as it is to assemble.
CONCLUSION
The Elektro Junior S handles just as you would expect a powered glider to perform, smooth and agile. It only takes a few hours to assemble. The end result is a model that looks good, flies well and is durable enough to handle the unforeseenaccident. What more could you ask for from an entry-level powered glider?
Links
Graupner, info@v-eastonline.com, www.graupner.com, (941) 925-9653
Hitec USA, www.hitecrcd.com, (858) 748-6948
JR distributed exclusively by Horizon Hobby Distributors, www.jrradios.com, (800) 338-4639
Spektrum distributed by Horizon Hobby, www.spektrumrc.com, (800) 338-4639