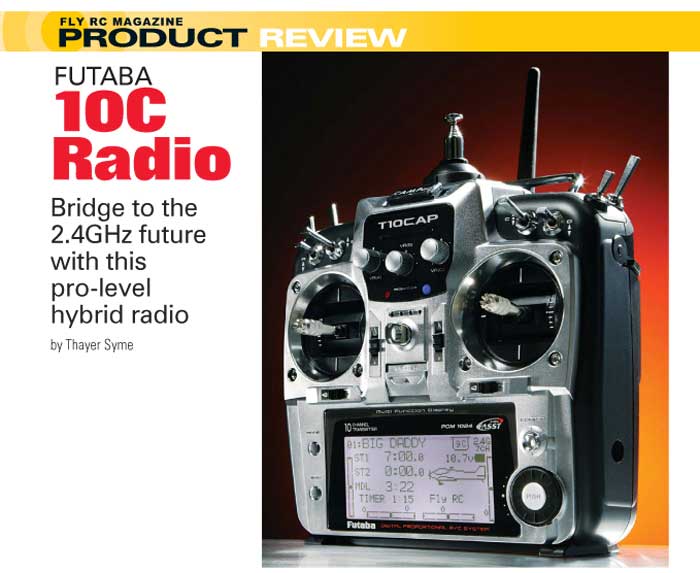 The new Futaba 10C radio offers unprecedented flexibility and value for RC pilots everywhere, with prolevel performance at a very affordable price. This offering is an evolution of Futabas very popular 9C/9C Super series, with many updates and a seamless transition that will be greatly appreciated by longtime Futaba pilots. The 10C is designed primarily for intermediate and advanced pilots, and in my mind is a perfect opportunity to make the leap to 2.4GHz if you have been holding out and waiting for the technology to mature.
SYSTEM FLEXIBILITY
The most obvious and exciting feature of the new 10C transmitter is that it ships with Futabas 2.4GHz TM-10 FASST module and the R6014FS receiver. Unlike the few thirdparty aftermarket 2.4GHz modules that would fit this radio, the TM-10 module features an integral link to the transmitters native digital data stream. By avoiding time-consuming translations between digital and analog signals, Futaba engineers maximized the performance of the 10C, making this combination one of the fastest 2.4GHz systems available. Enhancing the flexibility and performance, the system can be set in two modes for 2.4GHz operation. A 7-channel mode operates with 1024 resolution and is used with the R607FS and R617FS receivers. Select the 10-channel mode and an R608FS or R6014FS receiver, and enjoy full 2048 resolution for the ultimate in precision control.
Futaba recognizes that not every modeler will have a full inventory of 2.4GHz receivers available during this transitional period. To ease your shift to this new technology, the new 10C can also be used with any of Futabas 50 or 72MHz modules that you may have been using with your 9C or even earlier 8U series radios.
The Futaba 10C shown with its accessories.

SPECS

10CAP TRANSMITTER
WEIGHT: 36 oz.
CURRENT DRAW: 130ma (with TM-10 or
FP-TK-FM modules, screen backlighting off)
230ma (with TP-FSM synthesizing module,
backlighting off)

R6014FS RECEIVER
WEIGHT: .72 oz. (20.8g)
SIZE: 2.06×1.48x.063 in.
CURRENT DRAW: 70mA

IN THE BOX
1–  10CAP transmitter
2–  TM-10 2.4GHz FASST module
3–  R6014FS receiver
4–  8-cell 9.6V 700mAh Ni-Cd transmitter battery
5–  4-cell 4.8V 600mAh Ni-Cd receiver battery
6–  Wall charger
7–  Switch harness
8–  8-in. servo extension
9–  Neck strap
When used with these FM modules, the 10C can control any compatible FM-PPM or 1024-PCM receivers already in your fleet. The obvious benefit here is that you can continue to fly your existing models with the receivers you already own and gradually migrate to Futabas 2.4GHz FASST system with future receiver purchases as your budget allows. I think this is a great support strategy for faithful Futaba customers who are significantly invested in 72MHz technology. Once you have your radio programmed, switching between the new 7- and 10-channel 2.4GHz modes and the legacy 50/72MHz PPM and PCM modes is as easy as selecting the programming for your desired model, ensuring you have the proper module installed and cycling the power.
The 10C has 15 model memories with 4, 16 or 33 additional models available when using the optional 16k, 64k and 128k CAMPac modules respectively. The model names now have 10 characters availablea nice touch. Existing users of the 9C and 9C Super transmitters will find the transition to the 10C very easy. The menus are quite similar, and best of all, you can transfer your existing model programming by using one of Futabas CAMPac modules. Simply insert your 9C CAMPac module into the 10C and turn it on. The 10C will ask if you want to initialize the module, but it will also tell you that the 9C data can be converted. I spent a few minutes bouncing my 16k CAMPac module back and forth between my older 9C and the new 10C transmitter and easily moved the programming for several different airplanes and helicopters to the new transmitter without a hitch, a welcome feature with todays increasingly capable and complex programming options.
The 10C is readily available in four editions for the U.S. market. These are airplane and helicopter versions, in both Mode 1 and Mode 2 stick configurations. There are only a few basic differences between the airplane and helicopter versions: the default model type when setting up a new model, the idleup and trainer switches are swapped left and right, and the feel of the throttle stick. The airplane version has a typical notched throttle ratchet that helps hold a power setting as you manipulate the rudder while the throttle stick on the helicopter version has a smooth, detent-free, stick motion for the more precise power and altitude control helicopters demand. The throttle ratchet can be changed if you prefer a smooth feel on your throttle for airplanes. The stick tension is easily adjusted by removing the back and adjusting the gimbal tension screws as indicated in the manual. If you have done this with your 9C, the process is the same.
Similarly, you can select Mode 1, 2, 3, or 4 operation via software. The throttle ratchet and elevator springs do not change with the software of course, and Futaba recommends that a service center make these mechanical changes for you. I expect that many experienced modelers will not hesitate to make this change themselves. If you prefer a language other than English or simply want to have fun with a friend, the same menu also lets you select German, French, Spanish, Italian and Dutch for the display language on your transmitter.
PROGRAMMING
One new setup step for 2.4GHz radio systems is to initialize your receiver so that it recognizes only the signal coming from your transmitter. This is an easy operation with Futabas Easy Link system, as the receiver has a small button on it. Simply power up the transmitter and receiver, and then push the button. As soon as the LEDs give the signal, your receiver is ready for use.
The 10C uses a rotating dial that doubles as a pushbutton and a small joystick cursor lever for its programming interface. I took to these controls immediately. In fact, after just a few minutes, I wanted the joystick on my 9C as well. The joystick is used to rapidly select between different menu items and the wheel to select the parameter values. Push the wheel in to set the indicated value.
As you explore the menus, you will find a lot more flexibility and capability available in the new 10C with features like the large 160×72 backlit display with adjustable brightness, contrast and auto-off options, the 10- character model and user names, full switch assignability, 7-point throttle and pitch curves, multiple flight modes, smart logic switches, 8 programmable mixes and 9 factory defined mixes for airplanes, and dual/triple rates on aileron, elevator and rudder. Exponential throws are also available for these three flight controls to smooth your flying, and also for the throttle, to fine-tune a linear response with glow and gas engines.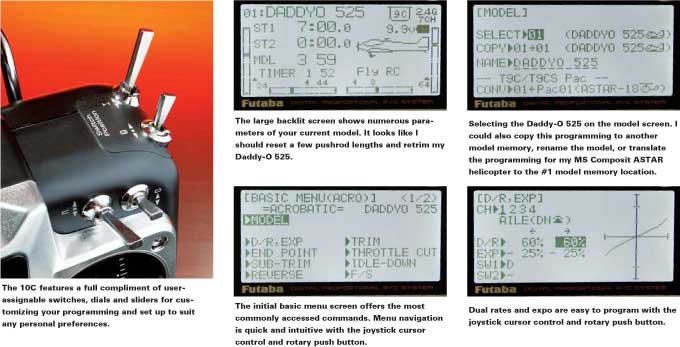 AIRBORNE

Before we can fly, we need to perform a range check. Range-checking a conventional FM radio is a simple matter of turning on the transmitter and walking away from your model with the antenna collapsed. This same procedure is recommended when flying with the 10C in an FM PPM or PCM mode. The 10C also features a power-down mode for range checking with the 2.4GHz TM-10 module that you access by turning the power on with the programming dial pushed. This mode reduces the RF output for 90 seconds, as indicated by the blue RF Indicator LED flashing on the transmitter face.

The RF Indicator LED returns to a solid blue when the power output reverts to its normal level. If you need more than 90 seconds for your range check, simply cycle the power with the dial depressed again. Pressing the dial while in the power-down mode restores the output to its full power, even if 90 seconds have not passed. The 10C should maintain control for at least 100 feet during a range check with the engine/motor both stopped and running. With the range check completed, extend the traditional antenna or restore the power output to full, and you are ready to fly.

Of course, flying is what it is all about, and the 10C does not disappoint in the air. I noticed a significant crispness in the control response from my CCPM helicopters, and I attribute that to the increased speed of this system versus the 9C I have been flying. My fixed-wing aircraft are much less demanding in their control requirements than the helis, but I did feel as if they were also following my inputs more directly. A placebo effect? Maybe so, but regardless of the reason, I have been flying more smoothly and with more precision since taking the 10C out to the field.

Be sure you conform to your local clubs transmitter control policies when range-testing and flying. Though 2.4GHz systems are immune from conventional 50/72MHz interference many clubs have instituted an "all transmitters get a pin" policy just to be sure they know who is operating on 2.4GHz and to keep you in the habit of getting a pin for your 50/72/75MHz operations.

The sailplane programming now includes three wing types and five flight conditions in addition to V-tail, elevon, flaperon, aileron differential and crow/butterfly mixing. eight programmable mixes (4 with 5-point curves) and a dozen factory-defined mixes round out the soaring-specific programming.Heli mixing also includes 8 swash setups, conditional gyro, pitch and throttle-curve programming, 3 idle-ups and revo and governor mixing. The 10C offers more programming options than I can list here, so pore over the spec boxes at www.2.4gigahertz.com/systems/futk9250.html, and even download the manual online to answer specific questions you might have.CONCLUSION
My experience with the 10C so far has been nothing but pleasurable with easy transitions between the 72MHz and 2.4GHz models in my fleet and flexible programming that is intuitive, readily accessible and easy to set up. All this translates to a more enjoyable flying experience, and after all, isnt that the whole reason to upgrade to a new radio? If you are looking for enhanced pro-level programming functionality and versatility, and high-performance 2.4GHz capability, take a long hard look at Futabas new 10C radio. It deserves your serious consideration. Links
Futaba, distributed exclusively by Great Planes Model Distributors, www.futaba-rc.com,
www.2.4gigahertz.com,
(800) 682-8948