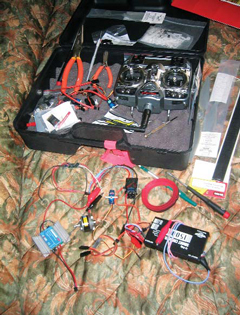 Why not fly radio control planes when you are away for work? If you enjoy model planes and occasionally have to travel for work, keep reading.
There is nothing worse than an extended work trip with nothing to do during the off hours in, oh, lets say Savannah, GA, for example. Dont get me wrong, Savannah is a beautiful place, but I can only explore for so long before model airplane withdrawal sets in. So on a recent trip, it wasnt long before I was Googling for local hobby shops.
Flying RC away from home requires a field kit of your most critical components. You can't bring your entire workshop, so plan ahead and bring gear that will suit a variety of models. You never know what the local shop will have in stock when you get there, but the mystery can be part of the fun as well.
As an A&P for a corporate flight program, I have been on the road for work before. Usually, it means a couple of weeks away from home training for a new aircraft and a lot of downtime in the evenings. I recently had the insight to pack a transmitter case full of essentials for a trip. A Spektrum DX7 radio, servos, servo extensions, an E-flite 480 outrunner motor and ESC, LiPo charger, a few batteries, various props, glue, X-Acto knife and a few hand tools. It doesnt matter how much you bring, you will have forgotten something! Since you cant carry X-Acto knives or check LiPo batteries, shipping a box to the hotel ahead of time might be the easiest way to get your accessories on site.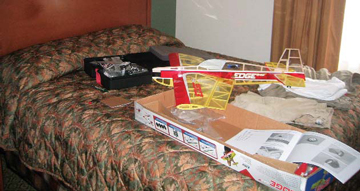 FIND LOCAL SUPPORT
The next hurdle is to find the hobby shop, and I find that Google works just as well as the phone book in the hotel room. You could copy directions off the computer screen but I prefer the turn-by-turn hand-holding of GPS.
The E-flite profile Edge 540 ARF was a great find at Extreme Hobbies. I tried to keep the CA off the bedspread, but I promise nothing!
 It wasnt long before I found myself at Extreme Hobbies and looking at a wide selection of ARF kits. When picking the right plane on the road, you have to keep simplicity in mind. The more complex a model is, the more time and tools it will require for assembly. Simple kits with straightforward assembly are best when traveling. With that in mind, I picked an E-flite Edge 540 profile ARF.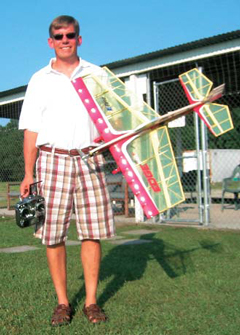 Assembly in the hotel room is easier than you may expect. You learn to adapt and overcome the lack of tools. Sandpaper should have been on my packing list, so late one night, I ended up substituting a section of tile grout on the bathroom floor instead. I did need a trip to the hardware store for an Allen wrench. Assembly would have taken around two hours if I had remembered to bring or buy some CA kicker.
Going to the parking lot and switching batteries in the rental car every hour made me appreciate the power supply on the workbench at home! Now, with a fully assembled plane and fully charged batteries, it was time to fly. The GPS came in handy again to find Savannahs RC flying field. Check with the hobby shop or the AMA website for flying sites in the area you plan to visit.
Savannah has a nice flying site and, as at most AMA fields, guests are welcome to fly as long as they have a current AMA card. I flew the heck out of that little Edge 540 during my two weeks there. I met several very cool people and had a lot of fun. Im also glad to report that my rolling circles improved with all that stick time.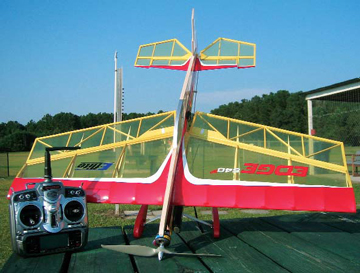 LESSONS LEARNED
I did a lot of other learning as well on that trip. I learned that one strip of Velcro doesnt have the holding power to keep a 3S 2100mAh battery pack in place during a high-G maneuver. Fortunately, the plane gyrated to the ground and landed unharmed about 30 feet from where the battery pack came to rest. I reinstalled the pack and kept flying (keeping the Gs down). The next and most important lesson I learned was to stand in the assigned flight areas and avoid stepping on the fields soft sand piles. I soon found out that these small sand piles house thousands of tiny red ants that bite!
At the field in Georgia. Getting a little stick time while out of town for work makes it all worthwhile. Just make sure to give the soft sand piles a wide berth!
 I was really glad I made the effort to make my radio-control plane excursion away from home happen. Flying RC planes is a lot of fun, and Im sure you would agree that its a great way to use spare time. Its also great to meet other nice people in the hobby. If that wasnt enough, having a burger and a beer with the local guys is always an experience. When it was time leave Savannah, I removed all of the radio gear and gave the Edge 540 to a young modeler. Was it all worth it? Heck, yah!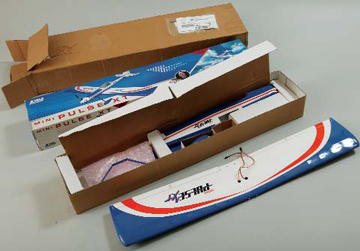 My current traveling plane is the is E-flite Mini Pulse. It can be disassembled and repacked into its original box and readily shipped to my travel destination, and more importantly, shipped home.
My first RC trip to Savannah was a learning experience. I found that assembling a plane away from home was fun, but leaving it there was a little expensive. Since then, I have assembled a Mini Pulse for more trips. The Mini Pulse easily breaks down to fit in its original box, so I can ship the plane, batteries and charger to and from work assignments. I carry my transmitter onto the plane, connect it to my laptop and fly my simulator while en route.
What can I say? I love toy planes!