ProTek's all-new 2S-4S 4-Battery Parallel Charger Board will enable pilots to charge up to four batteries simultaneously, while balancing the individual cells of each pack. The Parallel Charger Board is encased in an impact-resistant custom-molded plastic shell and is compatible with LiPo, Li-Ion and LiFe batteries. The DC input and battery port are protected with replaceable fuses, and each cell and balance wire is protected with self-resetting poly fuses.
Pilots who need multiple packs charged in a hurry will love this board! Simply plug in up to four batteries of the same chemistry that use standard T-style connectors and balance leads. For optimum performance, the Parallel Charger board requires that batteries being charged be of the same cell count, similar age and similar discharge rates.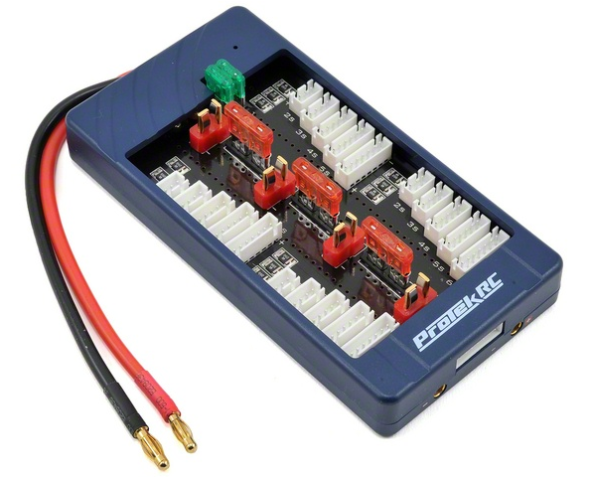 Main Features:
Charge four batteries at once
Charge from 2S to 6S Lithium batteries
Balances each individual cell of each battery
Daisy chain multiple boards for additional charging
Convenient T-Style battery connector
4mm gold bullet input connectors
40A max current
Replaceable DC input fuse
Replaceable battery port fuses
Self-resetting polyfuses protect balance circuits
Impact resistant custom molded plastic hard case
 Specifications:
Voltage: 0-22.2V DC
Max Current: 40A
Batteries: 4 packs (must be same capacity & cell count)
Battery Connector: T-Style/JST-XH
Input Connector: 4mm Gold Bullet/JST-XH
Input Connector Length: 6.75in (17.1cm)
Dimensions (LxWxH*): 6.8×3.9×0.75in (17.2×9.9×1.9cm) 
Click over to ProTek R/C for more information or to purchase.