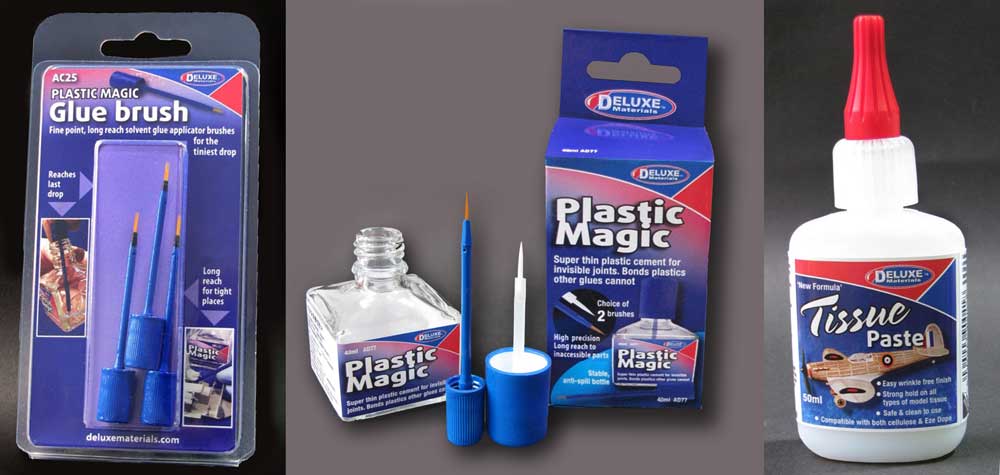 Plastic Magic
Plastic model kits are typically composed of intricate parts and various materials and often require joining in tight inaccessible places, presenting a formidable  challenge even to the experienced modeller.
Deluxe Materials' Plastic Magic is now available in a beautiful, new, sturdy, anti-spill bottle with fine point applicator brush cap. In addition there is also a finer long reach brush for joints in tight areas and which allows access to every last drop of adhesive in the bottle.
Plastic Magic, super thin adhesive will deliver invisible joints to a wide range of  plastics using its high solvent power and rapid capillary action. It is also designed to deliver rapid adhesion and longer lasting action when applied with the fine point applicator brush or the unique, finer longer reach brush.
Plastic Magic bonds:  Styrene, ABS, Polyester PVC, Butyrate, Polycarbonate, Plastic Card with a long lasting, clean, non clog action.  Boxed with the two unique brushes, the stable 40ml bottle is a natural and safer choice for any work bench.
Plastic modelling made easier;  please ask for Plastic Magic for your next project.
No more  spillages!
Choice of 2 brushes with high precision and long reach.
Fast non-clog action.
Reaches the  last  drop  in the bottle- no  waste.
The 40ml bottle of Brush Magic (part number AD77) is priced at around £5.99  and distributed to all good hobby shops through our international network of distributors.
---
Tissue Paste
Tissue  paste.. It doesn't just have  to stick  tissue  to balsawood.. It must also:
be easy to dispense & spread from a fine spout
have good hold to allow teasing around corners.
be repositionable without   sticking to fingers.
allow application of both wet or dry tissue.
allow sliding of tissue into position without wrinkles.
dry quickly without dis-colouring tissue.
allow shrinking with water
accept cellulose and Eze Dope.
form a neat edge when trimmed or
be stable during water shrinking & doping.
Deluxe Materials New Formula Tissue  paste is all of the above. Deluxe Materials Tissue Paste for!
Easy wrinkle free finish
Strong hold all types of  model tissue.
Compatibility with both cellulose and Eze Dope
Clean easy safer
A 50ml bottle of New Formula Tissue Paste (AD 60) is priced at £5.75 incl vat and is distributed to the  trade by our  network  of  distributors.
---
Plastic Magic Glue Brush
Enter the Deluxe Materials Plastic Magic Glue Brush pack.  These specially designed, superfine, long reach brushes will deliver the tiniest drop of solvent adhesive even to difficult joints.
High precision
Long reach for tight
Enables clean glue action.
Delivers tiniest drop.
Reaches last drop
The pack of 3 brushes specially designed for application of Plastic Magic to small scale  tiny parts is priced   at £3.75 incl  vat and  is distributed   to  the  trade by our  network  of  distributors.