Model Aero is adding to their popular Polaris family with the new Polaris EX seaplane parkflyer. The Model Aero Polaris is the  kit version of a Steve Shumate design , originally inspired by Laddie Mikulasko's North Star seaplane.
The Polaris EX features a new level of power system flexibility. This model can be built as a either a prop powered plane or as an EDF that utilizes the new RC Lander 10 bladed 68 mm EDF power system. And for those pilots who cannot make up their mind, it is possible to swap back and forth between the two in less than ten minutes! The Polaris EX performs equally well on both power systems but jet jockeys may prefer the incredible sound of the new Lander lightweight  electric ducted fan. An AUW of approximately 28 ounces gives the  the EDF version exceptional performance! This Model Aero  kit features laser cut sheet foam construction and includes all required hardware. Twin tail booms add strength and stability and help make the EX the best flying Polaris ever!
Specifications:
Wing area: 343 sq in
Span: 29.0″
Length: 38.4″
Weight RTF: 18 to 22 oz prop, 28 oz EDF
Wing loading: 8.4 oz/sq ft
Motor: Spin Max 2212-06 or 2212-10, RC Lander 68 mm EDF
Battery: 1300 to 2700 mAh 11.1V
Prop: APC 6x4E for 2212-6 motor, 7x5E for 2212-10 motor
Max Current: 16 amps (2212-10) to 22 amps (2212-6), 55 amps EDF
Watts: 240 watts prop, 550 Watts EDF
Power loading: 190 watts/lb for 2212-6 motor
Speed control: 30-70 amp with heat sink or venting recommended
Receiver: 4 channel
Flight controls: Elevator, ailerons, rudder, throttle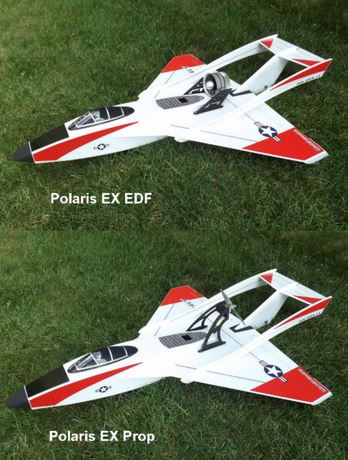 Click through to Model Aero for more information or to place you order!