FlyRC Issue 78
May 2010

$6.99
| | | |
| --- | --- | --- |
| FLY RC | PRODUCT REVIEW | by Thayer Syme |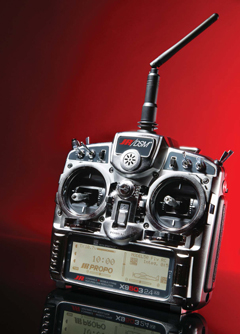 JR's NEW
X9503
Updating An Old Favorite
THE OLD GAURD
The JR 9303 line has been a cornerstone of the RC market ever since its original introduction in early 2004. Initially released on the 72MHz band, the XP9303 quickly gained widespread popularity for its programming ease and flexibility, 30-model memory, high-quality construction and the many pro features it incorporated for its relatively affordable price. No question, this was as much radio as most people really needed, and long-time JR sport fliers flocked to it in droves.
The PC Data Transfer Interface allows you to quickly back up model data with any modern PC.
Despite the passage of time and increasing technological capability, the 9303 retained its popularity, a testament to the strength of its original design. Three years after its initial introduction, the XP9303 dropped its P as JR migrated it to Spektrums DSM2 2.4GHz technology. Sales again started climbing for all the same reasons; plenty of capability, great value and ease of use. Believe it or not, we are now three more years past its transition to worry-free 2.4GHz operation, and JR has taken user feedback to heart. The latest iteration in the venerable 9303 family has a new name to mirror its new capabilities.
JR compliments the 9503 with a full line of servos for any model. Shown here is the diminutive 6-gram DS188 high-speed digital and mighty 480 oz.-in. 8711HV high voltage servo for giant scale models.
CHANGES
The new JR X9503 2.4 will be immediately familiar to any 9303 pilot. It is in essence an X9303 pumped up with additional features requested by longtime users. The obvious name change reflects the increased model capacity. The 9503 features a 67-percent boost to 50 model memories. While few of us have that many models ready to go at any given time, many pilots like to try new setups with our favorite models. This increased capacity makes it easier than ever before to copy a setup to a new model memory so you can test changes without compromising a known setup.
The X9503 comes with a charger, heavy duty switch and JRs 9-channel R921 receiver.
The other very obvious addition is the new display. The big screen is now backlit, making it just as easy to program in a dim corner of your shop or garage, the local gym, or while out night flying, as it is on a sunny day at the field. And dont worry, you arent being charged extra for either of these marked improvements. More on that in a moment.
The last big upgrade is the addition of a new timer function. The countdown timer can now be keyed to the throttle stick, so that it starts as soon as you advance the power for takeoff. This is a welcome addition for all those pilots who"despite their best intentions" regularly kick themselves a minute or two into a flight after remembering the timer is still idle. This timer does not stop counting when you reduce the throttle back to zero. As before, simply push the bottom of the four buttons on the left of the screen to pause the timer. Advancing the throttle starts it back up again. If you pefer the old style of operation, you can disable the throttle interlink and stay with the buttons.
The new X9503 features an easy reading backlit screen and 50 model memories.
In addition to all these upgrades, there is one feature of the X9503 that was scaled back significantly, and that is the price. The list price of the new 9503 is about $150 lower than the X9303 it replaces, which translates to a savings on the street of roughly $80 to $90. That is a pretty big bite in our favor, and you can turn that money into another receiver, a bunch of servos, a micro model or a few gallons of fuel. Like the 9303 before it, the 9503 is available in both fixed wing airplane and helicopter configurations.
DATA MIGRATION
If you have been flying your 9303 for a while, you likely have more than a few model setups you dont want to reprogram. JR has you covered with their PC Data Transfer package. This handy USB transmitter interface lets you save your model setups on your PC, and customize them with an easy-to-use graphic interface. It doesnt take long to simply move all your existing 9303 programming to your computer, then push it back out to your new 9503. This convenience and the security of having your data backed up gives priceless peace of mind, with the near infinite storage capacity of a modern hard drive.
CONCLUSION
The new X9503 2.4 offers some significant upgrades over its predecessor and combines them with a much appreciated price reduction. It retains the familiar solid feel, easy programming and precision control that have helped make this product line one of the most popular options for any model from electric indoor micro flyers to giant scale aerobats, jets and warbirds. If you are in the market for a new DSM2 transmitter that will fly any model you might have, the JR X9503 2.4 deserves your attention.
Links
JR, distributed exclusively by Horizon Hobby Distributors, www.jrradios.com , (877) 504-0233