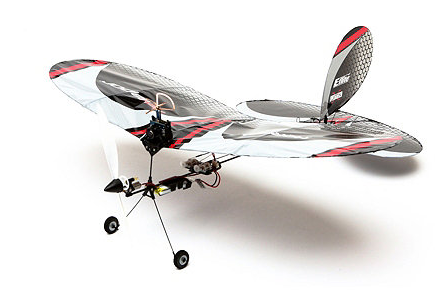 If you have ever wanted to try FPV inside your own home now you can with this ready to go package from E-Flite!  The ever popular Vapor now has an option for a FPV camera backpack that's ready to give you a first person view!
Poised at the optimal point on the aircraft, a tiny video camera sends full-color, real-time action back to you on the ground. The view is so immersive that you'll feel as though you're actually sitting in the pilot's seat of the model airplane. Plus, the FPV Vapor ultra micro aircraft is small enough to enjoy in many large indoor spaces, such as a gymnasium or even outdoors in your own backyard. The ultra-lightweight design, combined with its efficient motor system, allows the airplane to have outstanding handling even when it's flown at slow speed. Which means you can experience First-Person View Flight virtually anytime and anyplace.
You can have this Bind-N-Fly® version up in the time it takes to charge the batteries. The Spektrum™ VA1100 ultra micro FPV system is fully installed on the airframe which is compatible with any 5.8GHz FPV receiver such as the Fat Shark Teleporter V4 headset. Then just bind the UMX FPV Vapor to your favorite transmitter equipped with Spektrum DSM2®/DSMX® technology and experience RC flight in a whole new way.
Key Features
Completely built, flight ready airframe
Spektrum™ VS1100 ultra micro FPV system
SpiroNET circular polarized antenna system
150mAh 1S 3.7V Li-Po battery and USB 1S Li-Po charger
Ultra-lightweight, film-covered carbon fiber airframe with modular construction
Spektrum 3-channel DSMX® receiver/ESC/Servo unit
Fully proportional throttle, elevator and rudder control
No FCC license required
Needed To Complete
4+ channel DSM2®/DSMX® transmitter
FCC-Certified 5.8GHz FPV headset or view screen