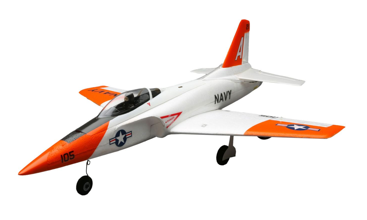 The Habu airframe has been a favorite among EDF beginners and experts alike.  It's simple design is rugged yet it's performance always pleases.  Horizon Hobby has released a number of aircraft in the Habu line and today we're looking at the latest.  This new UMX design is the first Habu to incorporate the SAFE technology making this micro jet even better for pilots wanting to step into an EDF design.  It's simply charge the battery, and bind the UMX Habu S to your favorite DSM2,DSMx transmitter and your off flying in the jet age.
Key Features
Completely built and flight ready
SAFE® technology delivers flight envelope protection and AS3X® technology
Ultra-lightweight construction with a scale inspired paint scheme
Powerful E-flite® Delta-V® 180m, 28mm EDF unit (installed)
BL180m brushless ducted fan motor, 11750Kv (installed)
Four-channel control featuring industry leading Spektrum™ DSMX® technology
Performance ultra micro linear long-throw servos (installed)
Engineered intake and exhaust ducting delivers maximum performance
Removable landing gear and steerable nose wheel
200mAh 2S 7.4V 25C Li-Po battery (included)
Celectra™ 2S DC Li-Po balancing charger (included)
Requires a full range 4+ channel aircraft transmitter with Spektrum DSM2®/DSMX technology
Needed To Complete
A 4+ channel DSM2- or DSMX-compatible transmitter.
Engineered with SAFE™ Technology
SAFE® (Sensor Assisted Flight Envelope) technology is a revolutionary electronic flight envelope protection system. This intuitive technology enables consistently smooth flight and battles windy conditions in multiple modes with varying levels of assistance and protection including:
Beginner Mode
Pitch and roll angle limits combine with electronic self-leveling to help you keep the UMX Habu S flying smoothly.
Intermediate Mode
Natural feeling AS3X® system stability with expanded pitch and roll angle limits for a larger flight envelope that protects you from entering extreme flight conditions.
Experienced Mode
Pitch and roll limits are removed while AS3X technology delivers smooth flight and a rock-solid feel.
Panic Recovery Mode
1. Pilot loses control of the aircraft in any flight mode.
2. Pilot pushes the panic recovery button. The aircraft will return to level flight…
3. …once the aircraft is flying straight and level, the pilot returns all other controls to their neutral position and continues a gentle climb to a safe altitude.
The Delta-V® Advantage
The installed E-flite® 28mm Delta-V® 180m ducted fan and 11750Kv brushless inrunner motor combination efficiently converts incoming air to forward thrust. Careful sculpting of the internal duct allows the Delta-V® 180m fan system to deliver optimal performance.
Advanced Spektrum™ Control
The electronics installed deliver precision control of the throttle, ailerons, elevators and rudder. Advanced Spektrum™ DSMX® 2.4GHz technology means that you'll never have to worry about interference and will enjoy the freedom of choosing to fly with a wide variety of Spektrum transmitters available
Li-Po Power
The included rechargeable ultra micro 200mAh 2S 7.4V 25C Li-Po battery is capable of delivering 3-5 minute flight times. The included Celectra™ 2-cell Li-Po AC/DC charger can recharge the provided high-output battery in about 20-minutes.