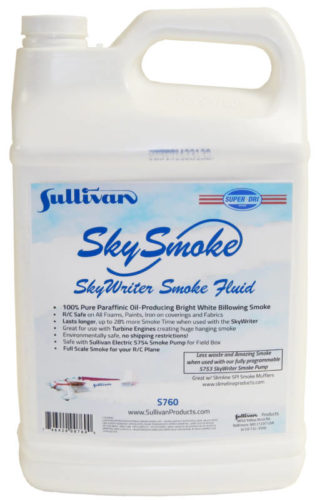 Sullivan Products is proud to announce a joint partnership with SuperDri, the leader in full scale smoke oil. Sullivan Products will be marketing full scale smoke fluid to the RC market, S760-SkySmoke will be blended and bottled by SuperDri and distributed by Sullivan Products,  www.sullivanproducts.com, the world leader in RC smoke pumps and systems.
Sullivan will make SkySmoke smoke fluid available to every retailer, storefront or web based, through distribution or direct sales July 2016.
SkySmoke is the cleanest, purest and heaviest smoke producing fluid on the market. SkySmoke uses only 100% paraffinic oils with no additives.
SkySmoke is safe with all RC materials such as glue, foams or even iron on coverings and is safe in turbine engines.
LINKS
Sullivan Products – www.sullivanproducts.com