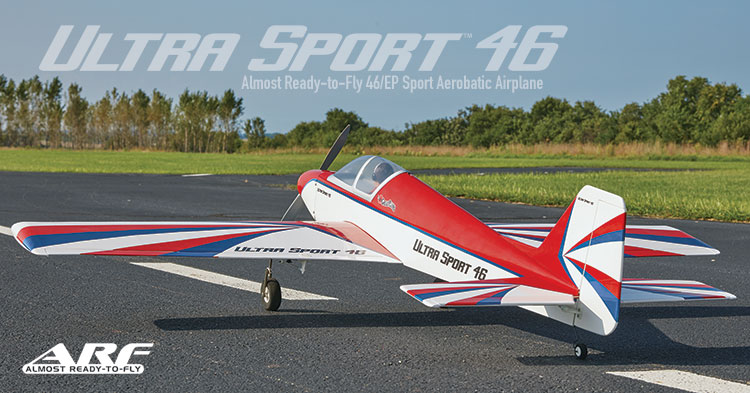 A popular design is reborn as the Ultra Sport 46!
From Great Planes:
For years the Ultra Sport has been the epitome of what a sport aerobatic airplane should be: quality construction, versatile performance and contemporary style. The 4th iteration of the Ultra Sport incorporates the most up-to-date features, resulting in an Almost-Ready-to-Fly model that sport pilots and veterans alike will enjoy.
Flies well with glow OR electric power.
Included mechanical retracts enhance performance and style.
Large hatch for easy access to on-board gear and battery.
The symmetrical airfoil offers a wider aerobatic range.
SPECIFICATIONS
Stock Number: GPMA1015
Wingspan: 55 in (1395 mm)
Wing Area: 564 in² (36.4 dm²)
Weight Range: 5.5-6.5 lb (2.4-2.9 kg)
Wing Loading: 22-26 oz/ft² (67-79 g/dm²)
Length: 49.5 in (1255 mm)
Requires: 4-6 channel radio with minimum 5 standard servos (additional standard servo required for glow power); .46-.55 cu. in. 2-stroke or .70 cu. in. 4-stroke glow engine OR 42-60-480kV electric motor with 75A ESC; 6S 22.2V 3600mAh LiPo battery (electric only); 12 x 7 sport prop (glow power) or 15 x 8 electric power (electric power)
[ngg_images source="galleries" container_ids="15″ display_type="photocrati-nextgen_basic_thumbnails" override_thumbnail_settings="0″ thumbnail_width="100″ thumbnail_height="75″ thumbnail_crop="1″ images_per_page="20″ number_of_columns="0″ ajax_pagination="0″ show_all_in_lightbox="0″ use_imagebrowser_effect="0″ show_slideshow_link="1″ slideshow_link_text="[Show as slideshow]" order_by="sortorder" order_direction="ASC" returns="included" maximum_entity_count="500″]
Find out more about the Ultra Sport 46 at Great Planes