I recently found the need for a engine test stand, and realized that the last one I had is either long gone or buried somewhere deep in my pile of RC shrapnel. To be honest, it was most suitable for smaller glow engines anyway, so I pretended I didn't have time to look for it and simply made a new one instead. With all the new small to midsize gas engines coming to market I knew I needed something a bit more substantial, so I started to jot down some ideas of what I wanted. And more importantly, what I didn't want.First and foremost, I need a stand that is not too big, yet is still comfortable to use. I don't anticipate running a new engine every week or even every month, so I immediately shelved any ideas that involved a large structure that would spend most of its life consuming valuable space in the garage or tool shed. A quick trip to the local home center for inspiration revealed a perfect starting point in the Black and Decker WorkMate, something many modelers likely already have. They had exactly one in stock, the floor display. After negotiating a quick 40-percent discount, I headed home with the base for my test stand, and, according to Black and Decker, a mighty handy tool for the home improvement workshop.With a little brainstorming I soon came up with the module shown. It can be easily secured to the WorkMate yet is still relatively compact and easy to store. I also wanted my test stand to readily adapt to different engines without getting "swiss cheesed" over time.
The crux of this design is the modular firewall. I hit upon the idea of using face plates that could be removed and replaced as they get used up. This also makes mounting a new engine easy as I can set it up using the drill press and workbench and then attach the assembly to the test stand as a single unit. I do still drill holes in the fixed rear plate for the throttle pushrod if necessary, but these are quite a way from the 1/4-20 fasteners in the corners that hold the sandwich together. I also made a box to hold a battery and servo driver for glow engines or an ignition battery for gas engines. Additional boxes could be added for fuel bulbs, plug wrenches, etc.The fuel tank mount is very simple and readily adjustable to maintain an appropriate relationship between the fuel tank and the carburetor. There is no real secret here, I just made a small bridge so I can use a strip of Velcro OneWrap from Vel-Tye, and shim the tank to an appropriate height using scraps of wood.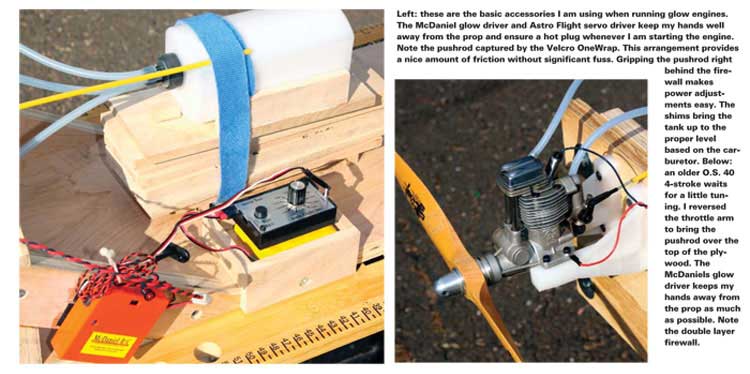 POWERING GLOW PLUGS
One thing I have noticed over the years is that using a conventional clip-on glow driver may not be the best setup for working on a test stand. With the repeated starts you will attach and disconnect the driver a lot more often than when starting the engine to fly at the field, especially if you are trying out different propellers. I simply don't like having my hands that close to a spinning prop that often if I can avoid it. I am using the McDaniel R/C Super Mcd466 onboard glow system from Sonic-Tronics and have found it to be a good solution.
The Mcd466 has an internal battery and is traditionally set up to run from a receiver. Instead I am using a 4-cell flight pack battery and an Astro Flight servo driver. The Mcd466 has a bright red LED that is readily visible in sunlight so I know when the plug is hot or not.
DOING IT AGAIN
Like any project, there are some design features that seemed like a good idea at the time that I would change. The main thing would be to not extend the firewall below the main base plate. I could then reverse the test stand on the WorkMate. Reversing the stand would allow me to mount my old J'Tec cast aluminum test stand on the other end when it turns up again. I have one of their smaller mounts, designed for glow engines up to .60 size. Mounting this on the other end would make this stand suitable for just about any engine I am likely to run for quite a while.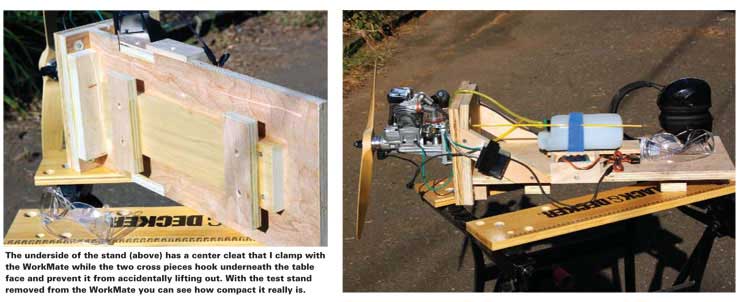 CONCLUSION
I am very happy with how this stand turned out, and encourage you to consider something similar for your own needs. It tucks out of the way nicely when not in use, and I have to admit, the WorkMate is seeing quite a bit more use on household projects than testing engines. If you want to build a similar test stand of your own, you can download a revised drawing by clicking the link below.
LINKS
Astro Flight
www.astroflight.com, (800) 123-4567
J'Tec
www.jtecradiowave.com, (800) 123-4567
O.S. Engines, distributed exclusively by Great Planes
www.osengines.com, (800) 123-4567
Saito Engines, distributed exclusively by Horizon Hobby
www.saitoengines.com, (800) 123-4567
Sonic-Tronics
www.sonictronics. com, (800) 123-4567
Vel-Tye
www.veltye.com, (757) 318-7240

Click here to download the free PDF plans.
Feel free to adapt as needed for your personal use. All commercial rights reserved.
Please email any questions or comments to thayers@flyrc.com.