Twisted Hobbys has been a 3D pilot's dream since the advent of their Crack lineup. Since the Crack Turbo Beaver came out, their designers have taken a liking to taking classic designs and giving them the proper Crack treatment that Twisted Hobbys is so well known for. This latest release was only a natural progression in response to the Crack Fokker. Simple truth is, everyone flying a warbird needs an adversary and to duel it out with the early German Fighter, Twisted has released the Crack Camel.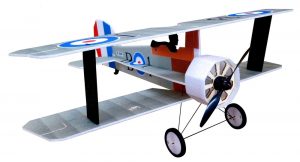 PROS
Astounding aerobatic performance
EPP construction offers excellent crash durability
Easy to transport and store
Perfect for larger indoor venues
CONS
The extremely light weight means outdoor flying with little to no wind only
WHAT IT IS
Like most other models in the Crack hangar, the Camel spans 35 inches across the wing and is constructed largely of EPP parts that are laser cut and lock into each other for a rigid airframe once completed. The floaty nature lent to all of the Crack models from their light loading is doubled up with this Sopwith bipe, so you can rest assured that it'll feel right at home and excel at post-stall flight, something the real model could never dream of.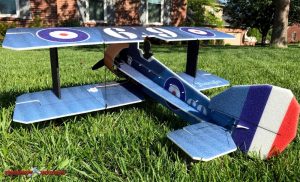 The Crack Camel comes in two different paint schemes and can be setup to run on a higher powered 3S system for extreme performance or a milder 2S system for those looking for more of a liquid and pattern type performer. The lighter weight batteries called for are the ubiquitous 450mAh 3S pack, which most small scale pilots will already have a bunch of.
THE SHORT LIST
PRICE: $82.99
WHO IT'S FOR: Proficient 4-channel pilots
REQUIRED FOR COMPLETION: A 20-30g brushless outrunner, 10-20 amp ESC, 450-600mAh 2-3S LiPo, (4) 7-9g servos and a 9x4SF prop (for 2S) or an 8x4E prop (for 3S).
WINGSPAN: 35 inches
AUW: 8-9 oz
LENGTH: 28.5 inches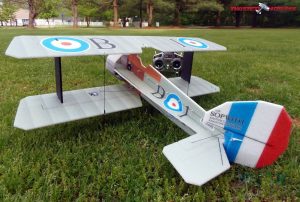 WHAT DO WE THINK?
With the huge side surface area on the fuse, the Crack Camel should be right at home in Knife Edge and with double the wing area, low and slow will be the name of the game. Another key feature to this model was the use of 3D printed components in key places to both lighten the AUW, but also to expedite the entire final assembly process. Needless to say, we're already drooling over the prospect of our Triplane dog-fighting with our Biplane.
LINKS