America's premier RC scale event
Top Gun is the event of events when it comes to building and flying scale RC aircraft. This invitation- only contest is designed to find the best RC scale builder/flier in the world. For the first time, the event was held at the new Paradise Field located at the Lakeland Airport in Lakeland, Florida. In October 2010, Paradise Field opened for Monster Planes, and it appears the runway keeps getting better and better. Top Gun started on Wednesday, April 27, and ended Sunday, May 1. Other than some crosswind conditions the first two days, the weather cooperated for the entire event. Top Gun pilots did a fantastic job handling the conditions, but then, you might expect they would!
Greg Foushis 1/3 scale 110-inch wingspan Lavochkin
La-7 by Scale Wings took first place in the Pro-Am
Sport class and also won Best Gas Performance with
its mean-sounding Moki 250 radial.
There were 112 registered aircraft scheduled to compete. Those aircraft were spread out into six different classes: Expert, Masters, Team, Unlimited, Pro-Am Pro and Pro-Am Sportsman. Both the Pro-Am classes flew one round each on Wednesday, Thursday and Friday on three different flight lines. Those rounds started at 10:00 a.m. and went to approximately 3:30 p.m. After three rounds, a minimum of the top 40 percent in each class went on to the final round, which was held on Sunday. There was open flying for competition aircraft only before and after the Pro-Am rounds. So, the flying was all day from 8:30 to 5:00.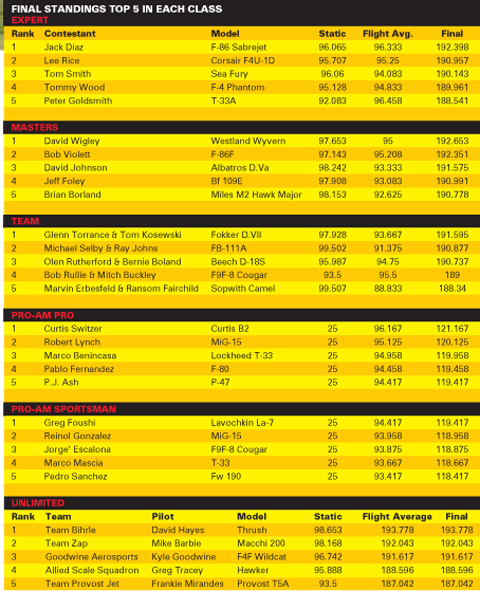 The Masters, Expert, Team and Unlimited classes were all static judged throughout the day on Thursday and Friday. The static judging was performed in four different categories: Outline, Finish, Color and Markings, Craftsmanship and Realism. The flying rounds took place Saturday and Sunday.
Each official flight is judged based on four mandatory maneuvers, five optional and an also given a score for overall realism. The mandatory maneuvers include takeoff, a high-speed and low-speed pass and of course the landing. The optional maneuvers are selected by the pilots and can be anything that is appropriate to the prototype. As you can imagine, this part of the contest is the most intense. Not only are the pilots trying to perform these maneuvers as accurately and realistically as possible, they also have to do this with two to three other aircraft in the air around them at the same time.
Most of the aircraft used glow, gas or turbine engines. The limited number powered by electric motors was EDF (electric ducted fan) jets. These included two MiG-15s, one F-4 Phantom and one F-86.
If youre a fan of WWI aircraft, Im sure David Johnsons Albatros D.Va would have caught your eye. This beautiful scratch-built 1/3 scale model has a wing span of 118 inches and weighs 32 pounds. It is powered by a Fuji 64 with a Menz 26×8 propeller. David took third place in the Masters class.
One of the many models that really stood out for me was Denny Coles 100-inch BT-13A. This 1/5 scale model weighs 35 pounds and took 7th place in Team flown by Dennys 19-year-old son, Sean. It is powered by a G-62 and swings a 22×10 prop. Denny started with a composite fuselage from the American Eagle Model Aircraft Company kit and built up wings and tail feathers based on plans by Pat Massey and Brian Taylor. He then covered it with thin aluminum roof flashing he purchased from the local home improvement store. This is Dennys first Top Gun entry and he has only been in the hobby five years. This bird looked fantastic on the ground and in the air.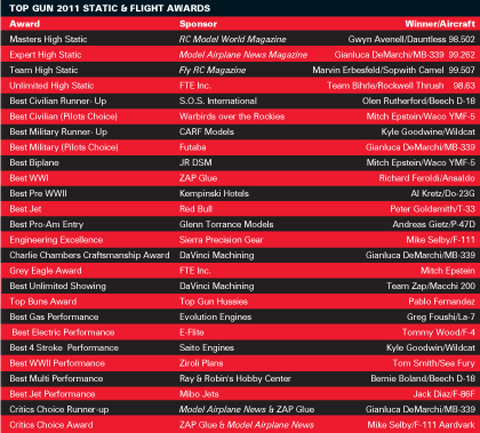 A very impressive jet that won multiple awards is Gianluca DeMarchis Aeromacchi MB-339. It is 1/3.6 scale with a span of 111 inches. It weighs 44 pounds and is powered by a JetCat P160. The detail on this model was outstanding with weathering, rivets and lights. It won the Expert class high-static award.
For the second consecutive year, the Mr. Top Gun award went to David Wigley for his scratchbuilt 1/5 scale 100-inch Westland Wyvern. It weighs 51 pounds and is powered by a BME 100 with a Mejzik 24×12 prop. Like the full-scale prototype, it actually has two counter rotating, coaxial propellers, creating a very unique sound. The forward prop is not driven though, and simply freewheels from the airflow. David also had a torpedo strapped to the belly that he would release on a highspeed pass. David took the Top Gun 2010 award, as well, with this unique model and I dont think weve seen the last of him and his talent.
THE HALF-TIME AIR SHOW
One of the highlights of the Top Gun event is the half-time air show. This show is presented on Saturday and Sunday at noon. The show began with Andreas Gietz flying his P-47 Thunderbolt and Raymond Labonte with his F4U Corsair, both by CARF Models. These two models have Moki 250 radials and what a sweet sound it was listening to them in the air at once.
The next performance was the air combat demo with about 10 pilots flying their planes trailing streamers. The objective of this air combat is to fly your plane until it runs out of fuel and the plane remaining with the longest streamer won the combat. It was quite comical to watch and the pilots had a blast.
Ray Labonte also did an aerobatic routine with his 3D Eurosport turbine. Additional highlights of the half-time show included the demonstrations of several different EDF jet models by Bob Violett Models, and Pablo Fernandez demonstrated his flying skills with his turbinepowered glider. Then it was time for some heavy metal flying with the warbird gaggle. This included approximately 10 aircraft in the air at one time with fighters escorting the bombers on a mission to wow the crowd. A tense moment occurred while Dino DiGiorgio was flying Doug Smiths B-17 during the warbird gaggle and was unable to extend both main gear for landing. He demonstrated his awesome flying skills and brought the plane down on one gear, bounced it once to shake the other main gear loose, and landed the plane safely.
Mac Hodges did his famous and always breathtaking routine with his 20-foot wingspan B-29. First releasing the Bell XS-1 from its wing, reenacting Chuck Yeagers first Mach 1.0 flight in 1947, he then hung this 97-pound bomber from its props displaying the power of the four DA-100 engines. Macs flying is always fun to watch and the crowd loved it. John Glezellis did an outstanding 3D demo with his Edge 540.
But thats not all. It was now time to do something just for the kids. The field was cleared of all models except for one giant 12-foot Telemaster JR Candy Machine (available from Hobby Lobby) that was flying over the runway for a special delivery. As the kids waited behind the pilot stations, the Telemaster opened its bomb bay doors and released several pounds of candy. The kids were then turned loose to run out and fill their pockets. As always, it took a while to get them back behind the spectators fence. If you got hungry during all this action, there were food vendors all day waiting to serve you. Vendors were on site selling merchandise from accessories to models. One exciting addition this year was the free flight simulators on site. Team Guru Xtreme brought two 60-foot trailers loaded with flight simulators for all spectators and participants to try out compliments of Frank Tiano Enterprises and Horizon Hobbies.
Photo Gallery

| | |
| --- | --- |
| Curtis Switzers scratch-built Curtiss B-2 Condor spans 14 feet and was awarded 1st place in the Pro-Am Pro category. | |
|  In 2011, David Wigley again took Mr. Top Gun with his amazing BME 100-powered, 100-inch Westland Wyvern, seen here dropping its torpedo. The contra-rotating propellers give this model a unique sound | |
|  Painted in the USAFs Thunderbird color scheme, in full-scale, Marco Benincasas T-33 would have been the jet used for VIP/press rides from 1953 through the 1960s. Marco placed third in Pro-Am Pro with this model. | |
|  Paulo Bortottos L-19 Bird Dog has some great radio and antenna detail, including the two antennae that are attached to the horizontal stabilizers leading edges. | |
|  Steve Thomas Nieuport 11 has an interesting WWI color scheme, which is of Italian origin. | |
|  Rob Lynch thrilled the crowd with the flybys of his BVM MiG-15. | |
|  Jorge Escalonas F9F-8 Cougar is set to land with its deployed speed brakes and flaps | |
| | |
|  Raymond Labontes F4U Corsair is from CARF Models and, according to its color scheme, was based at NAS Olathe in Gardner, Kansas. | |
|  During the Saturday and Sunday noon shows, Andreas Gietz flew his CARF Models P-47 Razorback along with Ray Labontes F4U Corsair. | |
|  Team Americas 1/6 scale MIBO A-10 sported a new paint scheme. Pablo Fernandez flew this model to a 6th place finish in the Unlimited class. | |
|  David Ribbes flew his Skymaster F-16C to 16th place in the Pro-Am Pro Class. | |
|  This year at Top Gun there wasnt a shortage of P-47s finished in the 78th FG colors. This one performs the scale maneuver of dropping its tanks for the judges. | |
|  In the Pro-Am Pro Class, Ryan Haldenwanger placed 9th with his MB-339. | |
|  Dave Voglunds Douglas A-1E Skyraiders paint scheme indicates that it was from VA-65 and based on the USS Enterprise during the Vietnam War. | |
|  P.J. Ash took 5th place with this Meister P-47, which included working drop tanks. | |
|  John Boykos J-3 Cub is finished in pre-WWII U.S. Army colors. John placed 10th overall in the Pro-Am Pro Class. | |
|  Along with providing a killer aerobatics demo at the half-time show, John Glezellis also flew this Super Decathlon in the competition. | |
|  David Johnson won 3rd place in the Masters class with his scratchbuilt 1/3 scale Albatros D.Va while sporting his authentic WWI 5-lozenge camouflage shoes. | |
| | |
|   Sean Curry flew this beautiful Fleet biplane in the Pro-Am Pro Class. | |
|  Denny Cole covered this 1/5 scale BT-13A with aluminum roof flashing. It weighs 35 pounds and took 7th placed in Team" flown by Dennys 19-year-old son, Sean. | |
|  Greg Traceys bubble-canopy Thunderbolt from the 78th FG certainly has strong Robart landing gear, as evidenced by this one wheel/side-load landing. | |
|  Taking top honors in Team were Glenn Torrance and Tom Kosewski with this outstanding Fokker D.VII. | |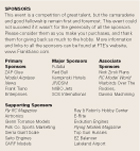 CONCLUSION
One of the most enjoyable parts of the event is the Saturday night banquet and auction. During the banquet 26 awards were given out while the guests enjoyed a nice dinner and a slide show of photos from the event. After the dinner was the auction of RC related goodies from flight boxes to big model kits. It was a great way for the pilots to meet new faces and hang out with fellow competitors and friends.
Be sure to visit www.flyrc.com for our extensive gallery of additional images from Top Gun 2011 and dont forget to put Top Gun 2012 on your calendar for next year. This great event is a must for any scale enthusiast. More information and the 2012 dates when set can be found at www.Franktiano.com, along with links to all the sponsors web sites.
Online Content & Wallpaper: www.flyrc.com/091103