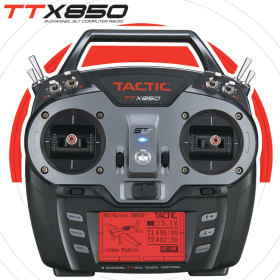 When Tactic released the TTX650 a couple years ago it quickly became a hit among people looking for a computerized radio with plenty of features but not a huge price tag.  Fast forward to today and they just expanded their offerings with an 8 channel version with even more features but still keeping an attractive price point.
The TTX850 is not just a radio for beginners.  With a wide range of Tactic receivers available, 30 model memory, 6 programmable mixes and function options preset for Airplane, Helicopter as well as multi-rotor aircraft this radio can handle just about any aircraft you can dream up. The easy to use push buttons and intuitive menu system round out the TTX850 as a no hassle radio system.
Features
Airplane, helicopter and multi-rotor software
Intuitive, straightforward menus
Push-button programming
30-model memory
Wireless trainer system and wired trainer system with 3.5 mm round jack
Six programmable mixes
Factory-programmed mixes including three swash mixes for helis and eight wing/tail configurations for fixed-wing aircraft
User-selectable switch assignments
Two sliding side levers, six 3-position switches and two 2-position switches
Sticks with ultra-smooth quad-bearing gimbals, plus length and tension adjustments
High-resolution, 256×160 red backlit graphing LCD with contrast and brightness adjustments
Servo reversing, sub-trim and travel limits (all channels)
Dual rates and exponential (aileron, elevator & rudder)
Digital trims with slow/fast adjustment (aileron, elevator, rudder & throttle)
Adjustable low-voltage alarm
4.8V 1000mAh NiMH transmitter battery
AC wall charger with interchangeable U.S., UK & EU terminals
Charge jack
Internal antenna
Compatible with all SLT receivers and Tx-R aircraft.
Transmitter Functions:

Model Select

Model Management (name, type, copy reset & wireless transfer)

Trim Settings

Ch5-Ch8 Assignment

Wired & Wireless Trainer Functions (with selectable channels)

Warnings (Rf on/off, low battery, throttle position, throttle cut, throttle hold, no signal & auto power-down)

Wired and wireless model copy function

Range Test

Fail-Safe with selectable channels (actually an Rx function)

Firmware updates (through built-in USB interface)

System Setup (user name, stick modes, LCD contrast, speaker volume, battery alarm, vibration intensity & LCD backlight)

Airplane Functions:

6 Programmable Mixes

8 Wing Types (normal, V-tail, delta, single aileron, dual aileron, aileron + flap, 2 aileron + flap & dual elevator)

Throttle Curve (12-point)

Throttle Cut

Advanced Gyro Gain

Aileron Mixing

Rudder Mixing

Aileron Differential

Flap Mixing

Air Brake Set

RF Output

Timers

Camera Gimbal

Digital Switch Assignment

Helicopter Functions:

6 Programmable Mixes

3 Swash Plate Types (1 servo; 2 servos/180°; or 3 servos/140°)

Throttle Curve (12-point)

Throttle Cut

Throttle Hold

Pitch Curve (12-point)

Pitch-Curve Hold

Advanced Gyro Gain

Swash Plate Ring

Throttle Mixing

Swash Plate Mixing

Cyclic Mixing

Rudder Mixing

RF Output

Timers

Camera Gimbal

Digital Switch Assignment

Multi-Rotor Functions:

6 Programmable Mixes

Throttle Curve (12-point)

Throttle Cut

Throttle Hold

Advanced Gyro Gain

RF Output

Timers

Camera Gimbal

Digital Switch Assignment