Last year Extreme Flight announced they were branching out into a family of brands to cover a wider spectrum of RC Aircraft. One of the new lines is called Legacy Aviation and it focuses on more civilian scale aircraft. While attending SEFF Extreme Flight debuted one of the newest additions to the Legacy Aviation line with the Mini Duster. This plane is a great lowing wing replica of modern turbine powered crop dusters. With it's semi-symmetrical wing, large flaps and ailerons you can do everything from fly lazy circles, shoot slow approaches to wild crow wing dives. This is a sport flyers dream for it's flexibility. While it's not geared at the 3D crowd you know with the Extreme Flight name attached to it they will push this airframe to the max and it will still liven up to do some fancy aerobatics.
A simple 3s 2200 lipo power setup and 6 micro servos make this an affordable plane to get in the air to have some fun.
Look for this airframe and others to be released from Extreme Flight later this summer!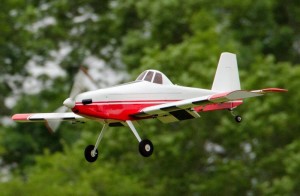 ---