By Kevin Siemonsen
PHOTOS BY MARY SIEMONSEN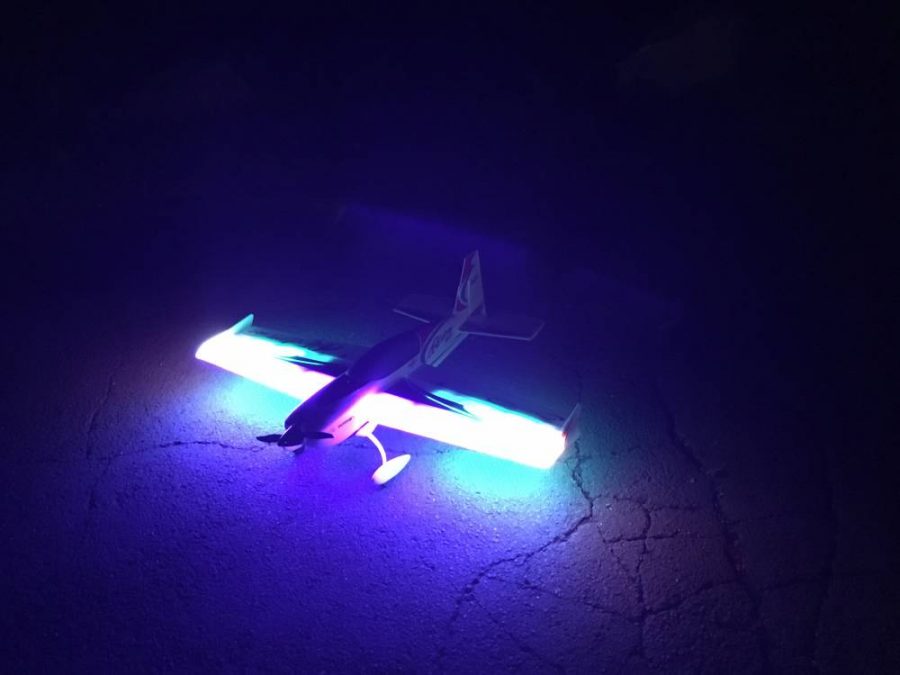 AUTHOR'S OPINION:
A beautifully detailed foamy 3D thoroughbred that is rewarding regardless of skill level. The Aura 8 incorporates a 3 axis gyro system that can help you achieve your flying goals regardless of experience.  The QQ Night Extra is a proven airframe, except with the additional benefit of LED lighting in the wings. Though not labeled a full on night flyer, there is more than enough light for exhilarating night flying!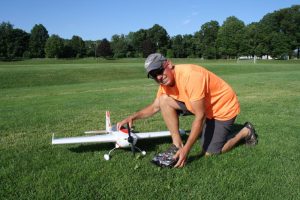 NEED TO KNOW
MANUFACTURER: Premier Aircraft
DISTRIBUTOR: Flex Innovations
TYPE: Foam 3D Trainer
FOR: Intermediate through advanced
MINIMUM FLYING AREA: Ball Field
PRICE: $309.99
NEEDED TO COMPLETE: Minor shop tools, receiver, radio and battery pack.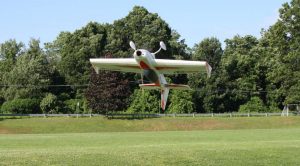 PROS
>> Performance is amazing
>> Level of completion from the factory
>> Attention to detail in construction
>> Lights enable better orientation after dark
CONS
>> Expensive
>> Mine was missing the prop adaptor
>> Can't use sub trims when setting up radio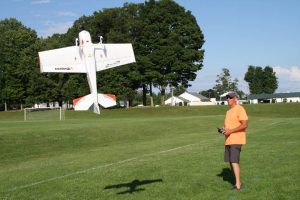 SPECS
WINGSPAN: 47.8 in. (1215mm)
WING AREA: 572.5 sq. in. (3995 sq. cm.)
WEIGHT: 48.0 oz. (1360 g)
WING LOADING: 12.7 oz./sq. ft.
CUBE LOADING: 6.1
LENGTH: 15.5 in. (393mm)
SERVOS: (4) Potenza DS19 Digital metal gear Long Throw Servo
MOTOR: Potenza 10 1350Kv Brushless
ESC: HobbyWing SkyWalker 40 amp
FCS: Aura 8 Advanced flight control system 3 axis gyro
PROPELLER: SR 11.5 X 4.5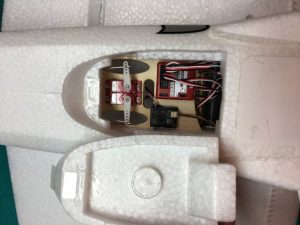 KEY FEATURES
A lightly loaded airframe for optimum 3D performance backed by a host of electronic genius transforms this Extra into a would-be aerobatic thoroughbred. Whether you're just looking to break into the ranks of 3D, are looking to dazzle club members with ever progressing routines or are a pro who needs an outlet to toss your thumbs at on the off days, the QQ Night Extra 300 is just what you need.
The Aura 8 is really the secret sauce behind the performance of the QQ Extra. It helps transitioning pilots slide into the more difficult maneuvers while giving seasoned pros the stability they might need while pushing the model to its limits.
The Potenza 10 motor might not sound like a lot, but it has plenty of grunt and when combined with the HW SkyWalker ESC, it is a perfectly matched power system for the QQ Night Extra.
The high end digital metal gear servos provide some serious muscle on the control surfaces and they keep them where you want them while rumbling through extreme 3D maneuvers.
INTRODUCTION
I was fortunate to have met Quique Somenzini at the Toledo expo this spring. I was pretty blunt and posed the question: "a 3 axis gyro in a plane … really"? With that he went on to explain that the Aura 8 AFCS is not a head lock gyro system. The Aura 8 is specifically designed to act as an aide to bring ones flying to the next level. The gyro does help maintain the attitude of the plane, but that's as far as it goes. The Aura 8 can make novices fly like intermediates, intermediates fly like experts and experts fly like Pros.
The QQ Extra Night is basically the same as the previous QQ Extra 300 except has lighting in the wings. This brought on another question for Quique… "How come there are not lights in the fuselage and tail?" With that question it was explained that it was more a concern about performance then lighting. Weight is somewhat critical on a 3D plane and unnecessary weight can really affect the performance. One thing that I got from my conversation with Quique was his passion for producing planes that performed beyond expectation and bringing the hobbyist to the next level.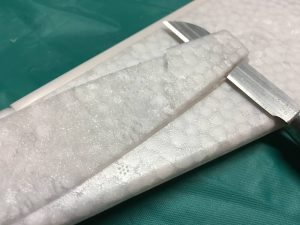 ASSEMBLY TIPS
The QQ Extra 300 is an injection molded foam fuselage with two part horizontal stabilizer and two part wing. The spring wire main gear fits into a slot on the belly of the fuselage and secures by fastening a cover plate with four screws. The tail wheel fits in a slot in the bottom of the rudder and is secured with a cover plate and three screws. With the wheels installed the carbon carry through horizontal stabilizer spar slides into receptacle in the tail. Each stabilizer half slides into position and self aligns as it bottoms out in a plastic cuff on either side. Clear tape is added to secure each half to the fuselage. The wing fastens in a similar way with carbon carry through spar and self alignment as the wings bottom out as they are fitted on each side of the fuselage. A screw is inserted from the underside of the wing root on each wing panel to lock the wing half into position. There is an added wire harness that exits the wing root that connects to a "Y" harness from the battery balance port. This powers an LED light ribbon throughout the hollow wing panel to the tip where additional high intensity LED's are added. The only gluing step of construction is the over size wing tips that act not only as side force generators, but help direct some of that light back at the fuselage for better visibility without extra weight. The tips are side specific with an integrated hard plastic bottom to prevent wear damage with ground contact. The wing tips have a self aligning feature that interfered with the LED lights. This was quickly remedied with an hobby knife before CA-ing into position.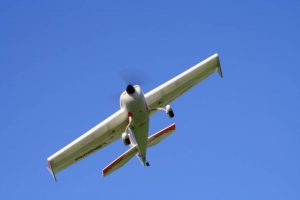 The radio system is nearly 100% installed with servos and Aura 8 installed at the factory. The control linkages are metal rods with plastic clevises that require connecting. The manual is very detail oriented and gives specific recommendations for each control. Aiding for radio access are two large radio hatches, one in the bottom with a magnet and a top one with convenient spring loaded clasp for tool-less entry. The Aura 8 ACFS is not a receiver, but is compatible with all major radio systems. It accepts signals from DSM, Futaba S Bus, Graupner Hott, JR X Bus or PPM stream. I opted to use a Spektrum remote receiver which simply plugs into a port on the Aura 8. Binding is straight forward but requires two bind plugs with a plug in port one and the other plugged into port eight. A three position switch is required for channel five. This switch will select the various flight modes. In the initial set up I used sub trims to set up the servo centering. I found that when selecting the different flight modes, that the flight control centering would change with switch position. Sub trims have to be set at zero in order for the servo to remain centered when selecting the various flight modes. This means the flight controls must be centered using mechanical linkages. Once the system is installed the radio system is recommended to be set up with three different flight modes (1) Flight control system off with modest control deflection (2) Flight control gains set on moderate and tuned with modest control deflection for best performance while performing precision flying (3) Flight gains set on highest with maximum control deflection for extreme 3D aerobatics.
The Potenza 10 1350Kv motor is factory installed as is the HobbyWing SkyWalker 40A ESC. The motor cowl secures with a screw on either side of the cowl. It is factory installed, but can be removed if one needed access to the motor at a later date. I did not have a battery with the matching connector so opted to install Power Pole connectors on the ESC and 3S 2200mAh LiPo battery. The only step required for the power system installation is to the 5mm prop adaptor and the included SR 11.5 x 4.5 electric prop. In the event that lights are desired, simply plug the balance plug of the battery to lighting interface and make sure its plugged into the each wing JST type wire connector … it's that easy :0)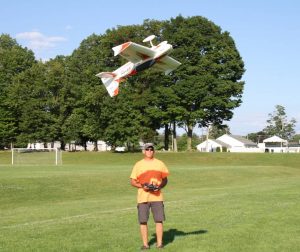 IN THE AIR
The QQ Extra 300 Night, as far as I'm concerned, is good enough without the Aura 8. The plane tracks well, requiring little correction while accelerating for take off. The wheels are more suited for manicured fields, but there is more then enough power to motivate things if the grass is a little long. The Extra flies as you'd expect with its pedigree lines and generous flight controls. The plane is very agile, but does not give up tracking to achieve this. The power system is well matched with great acceleration and moderate top speed. This is the second plane I've flown that had SFG's and was designed by Quique and am delighted by the balance of side lift that doesn't detract from aspects of flight. I did ask Quique about the process of tuning SFG's and he literally cuts off sections of SFG until it performs the way he wants it. This might also entail taping pieces back on if getting overzealous with the hobby knife. The plane is an obvious no brainer performing regular, precision and even 3D aerobatics … after all, that's what it's designed to do.
Where things go from good to incredible is when flying in mode with the Aura 8 ACFS activated. I consider myself to be a good pilot and some what of a 3D hacker! I don't get the time on the sticks like I used to and fly a little rusty at times. Activate the Aura 8 and the rust got knocked off in no time. The ACFS system does not take over, but definitely enhances flight, especially when slowing things down and in high alpha. The gyro system senses the need for a control correction and gives one before you can even compute that it needed one in the first place. The first time I flew using and Aura 8, I felt like I was cheating. I was piloting for Matt Maziarz so he could get some "lower" to the ground 3D shots and was giddy at how it took the pucker factor out of hover. I mean it when I say it enabled you to be some what relaxed knowing big brother was there flying along side. Rolling circles, slow rolls, knife edge were all easy and very impressive. Hovering is truly effortless with rock a solid Harrier and seamless transition into vertical. The power system is linear and the QQ Extra hangs there like a carpenters plum bob. Torque rolls were magical and look awesome, levitating a foot off the ground. If you're a hungry 3D'er, the QQ Extra is like an all you can eat 3D buffet!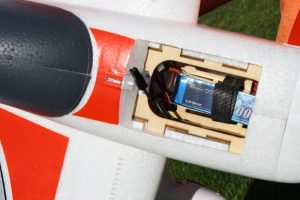 As the QQ Extra 300 Night is no different than the original QQ 300, there really is no difference in the flight characteristics, but the LED laden wings really do crank up the fun factor after dark. At first, the thought of a fuse sans lights on a night rig did not tickle my fancy. However, after a few flights in the dark with the QQ Night, I am a believer. The post-stall capabilities of the model allow you to keep it in close, so there really isn't any extra need for fuse lights. If so desired though, one could easily slip some extra LED strips down through the fuse as there is ample room within the interior.
THE LAST WORD
The QQ Extra 300 isn't your average foamy … it's more! I never thought of this solid of stability in a foamy, but QQ Extra has brought performance to the next level. Unlike other gyro systems, the Aura 8 works seamlessly in the background and does a remarkable job at increasing confidence. The plane looks great with stylish graphics that not only look good, but also aide in orientation. The Extra is equipped with high top quality components that work harmoniously in this 3D thoroughbred. Even better, you can enjoy it in the dark!
WE USED:
RADIO: JR 12X transmitter
RECEIVER: Spektrum satellite receiver
BATTERY: Some random 40C 3S 2200mAh that was floating around my pit box
LINKS