Sometimes, legends are made. With the P-51, North American Aviation gave the Greatest Generation the tool it needed to be truly great. Phoenix Model's radio controlled version is designed with reverent accuracy in mind—and ease for the builder. It's packed with both scale detail and flying hardware. Retracts, pilot, fuel tank, spinner… all you need is the power system of your choice and the radio gear. Fly the Mustang, feel the glory.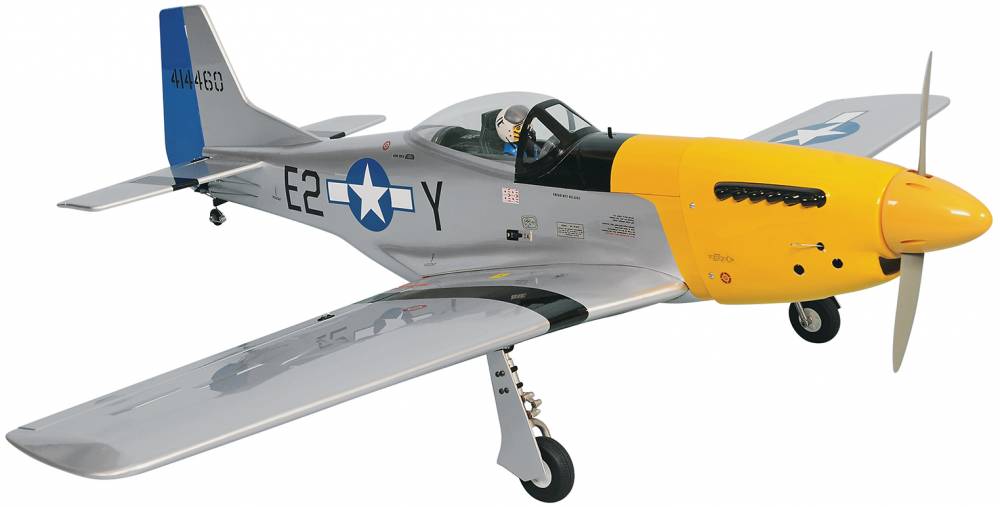 Features
?GP/EP compatible
?Pre-covered in high-quality, heat shrink film
?Removable top hatch for easy battery changes and radio setup
?Light fiberglass cowl for elegant scale looks
?Retracts with CNC suspension metal struts
?High quality hardware package
Specifications
Wingspan: 55.5 in (1410 mm)
Length: 48.7 in (1237 mm)
Flying Weight: 6.2-7.05 lbs (2.8-3.2 kg)
Wing Area: 639 sq in (41.3 sq dm)
Wing Loading: 23.92 oz/sq ft (73 g/sq dm)
Wing Type: NACA airfoils
Servo mount: (21 x 42 mm)
Requires: 6-channel (min.) radio w/5 standard servos and 1 low-profile retract servo, .46-.55 2-stroke or .52 4-stroke glow engine
— OR — outrunner brushless motor, brushless ESC, LiPo battery, charger, propeller
Visit towerhobbies.com for more information.