Over 1,000 tables sold to modelers and the 300 vendors in attendance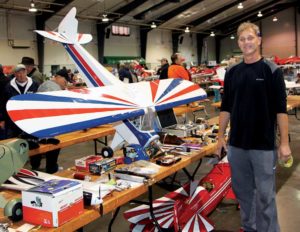 The Southeastern U.S. is home to a number of major events and just as the flying is getting started in earnest, if you need to stock up on parts or even a new plane, the Southeastern Model Show is hosted by our friends at the Georgia Aircraft Modelers Association in Perry, Georgia. GAMA, as the club is known, has been running the Southeastern Model Show since its inception 44 years ago. That's right, this was the 44th year running, a truly amazing display of continuity when you consider the ebb and flow of club members and the facets of the hobby that interest them. Most of us just know the show as "Perry" and if you ask a modeler if they are going to the Southeastern Model Show they might respond with a puzzled look, ask if they are going to "Perry" though and the recognition is usually instant. The town of Perry sits on Interstate 75 just a short drive south of Macon, Georgia and about an hour south of Atlanta. Many might think of Perry as little more than a gas and fast food stop on 75, but the town features several historic (and if you believe the locals, haunted) buildings and more importantly to modelers, the Georgia National Fairgrounds and Agricultural Center, now home to the Perry Swap Meet.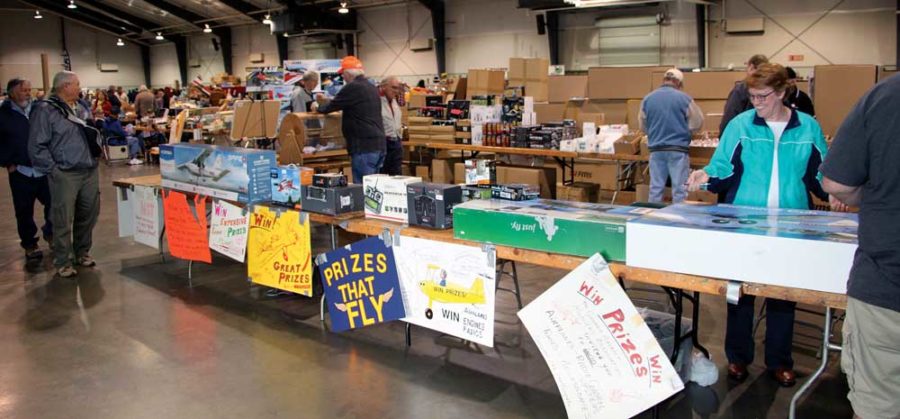 While the Fairgrounds is the current location of the Southeast Model Show, the show had much more modest roots before finding its current digs. As many events do, the swap meet started as a small get-together at the GAMA club field with burgers and dogs on the grill and casual buying and selling out of the backs of trucks. After a few years the event outgrew the informal flying field locale and was relocated to a conference hall at the awesome Museum of Aviation at the nearby Warner Robins Air Force Base. Outgrowing the available space at the museum, the event was again relocated to the local National Guard Armory building. Still swelling in size each year, the swap meet found its current home at the Georgia National Fairgrounds.
A quick note on the Museum of Aviation at Warner Robins AFB, if you're reading this you're probably an airplane nut like myself and this museum is a MUST SEE. If you're anywhere in the vicinity you should take the opportunity to visit. There are only so many places in the world you can walk right up to an SR-71 Blackbird and that is just one of the many cool and unique aircraft on display.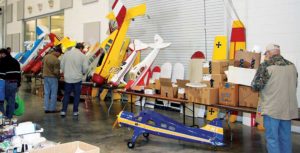 Located within sight of Interstate 75, the Georgia National Fairgrounds is sprawled across 1,100 acres and boasts 20 large buildings. In its first year the Southeastern Model Show only filled a single barn-style building, but there was plenty of room for expansion as the event swelled to even greater
proportions. As vendors and sellers flocked to the show, two more large buildings were added and a few years ago another building was dedicated to indoor flying.
The gymnasium that was set up for indoor flying was busy each and every time I checked in there. 35 pilots registered to fly and the bleachers were often loaded with curious onlookers. I saw everything from the current crop of UMX planes from Horizon to an assortment of multirotor models flying throughout the weekend. I also saw some impressive 3D flying by good friends of mine, Justin tried on my RealFlight Simulator and it's harder than it looks.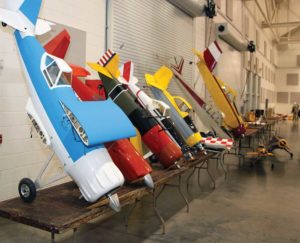 Walking the 125 thousand square feet of exhibition halls packed with RC goodies of every shape and size imaginable is where it's at, though! Cars and trucks were lined up to get in the gates indecently early on Friday and by indecently, I mean they were lined up hours before the sun came up. We had only a short drive as the hotel was within sight of the gates and it still took me nearly 45 minutes to get from the main road to where I ended up parking my truck.   Once inside it was another dizzying array of RC stuff. The Miller Murphy Howard building, which faces the interstate, is a 65,000 square foot exhibition hall that housed several rows of tables. Lining the inside perimeter of the hall was a large assortment of giant scale airplanes, several of which made me wish I'd brought my trailer. Jets, float planes, aerobatic planes, scale planes, you name it and it was probably to be found somewhere. It was in this Miller building that I ran into our friends from Valley View RC. I realize people come from a long way to attend Perry, but these guys made the trip from Washington State! While walking the aisles, meeting up with old friends and making new ones is just as much fun as haggling for the best deal on that must-have airplane.
The McGill Marketplace building offers another 40,000 square feet of browsing area. This building is also where the GAMA club and event director Jim Parker stage to manage the huge event. A raffle for airplanes, quads and goodies donated by the vendors runs all day long there. In addition, the AMA had their education trailer setup right out front. The education trailer is equipped with several simulators and allows kids of all ages to practice up between rounds of buying or selling. Another 20,000 square foot hall sandwiched between them rounds out the indoor exhibition space.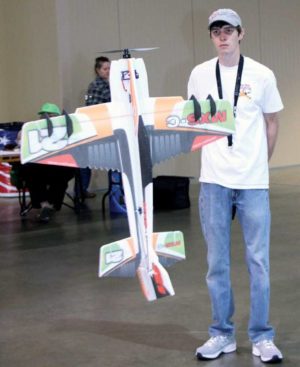 Speaking of the AMA, District V Vice President Kris Dixon brought in AMA President Bob Brown and insurance specialist Ilona Maine and held an open membership meeting and question and answer session that was very well attended. Many had questions pertaining to the FAA registration process, what is covered and what isn't and what may be coming down the road.
With over 1,000 tables sold to modelers and the 300 vendors in attendance you can pretty much find something for everyone if you're looking to buy in the 120,000 square feet of exhibition space. Over 2500 spectators pass through the gates to browse so if you're looking to sell you have a pretty large audience. Also, the exhibition space doesn't count the large number of folks still selling out of their cars and trucks, just like the very first GAMA swap meet! Such is the popularity of the Perry Swap meet that tables go on sale in mid-August and nearly always sell out.