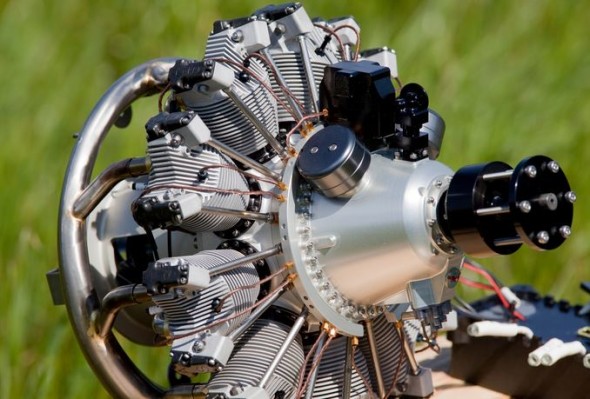 The Pegasus Aircraft Engines R-9/2800-200 radial engine is an almost exact replica of the front half of the full scale Pratt & Whitney R2800 TWIN WASP radial engine. The engine is a total of 200cc in 9 cylinders and is 1/5th scale. All Pegasus Aircraft Engines are CNC machined from high quality, alloy bar stocks and have unsurpassed fit and finish. Unlike other engines offered on the market today, the Pegasus Aircraft Engines line of engines are completely assembled in the USA using the highest quality materials and components available.
Pegasus Aircraft Engines has developed one of the best customer support programs offered by any engine manufacturer. When you call or email their Customer Services, you will be in contact with an expert on your particular engine and not a lay person hired only to answer the phone. What ever the problem you are experiencing or question you may have will be addressed quickly and expertly by a Pegasus Aircraft Engines qualified representative.
Specifications:
Scale: 1/5
Fuel: Gasoline
CDI Ignition contains, Tach. out, and MSD.
Configuration: Radial
Cooling: Air
Cylinders: 9
Displacement: 200 cc   (12.2 cu in)
Bore X Stroke: 29 X 32 mm
Compression Ratio: 9.5:1
Propeller Shaft: 17 mm, splined
Engine Outside Diameter: 281 mm   (11.06″)
Weight (w/o blades or hubs): 13 pounds
Carburetor: 1 ZAMA
Stainless Steel exhaust collector ring with oil injection nipple.
(Optional) Ground adjustable, Hydromatic Prop. Hub, diameter: 750mm
Click through to Pegasus Aircraft Engines for more information