Hitec's powerful X2-700 Multicharger is the sophisticated charging choice for all your high amperage batteries. This DC powerhouse features two 700-watt output ports for increased capacity and supports all battery chemistries, including the latest LiHV cells. The microprocessor control and an internal resistance meter make this the star at the workshop, flying field and track. Hitec's free "Charge Master" software allows full PC control of the X2-700 through its integrated USB port from basic setup to full software analysis of your battery's health and performance. Streamline your operations with the new Synchronous Mode as the second output port automatically mirrors your channel one settings to charge multiple similar batteries with minimal setup time. Reliable and durable, this is a must-have charger for all seasoned hobbyists.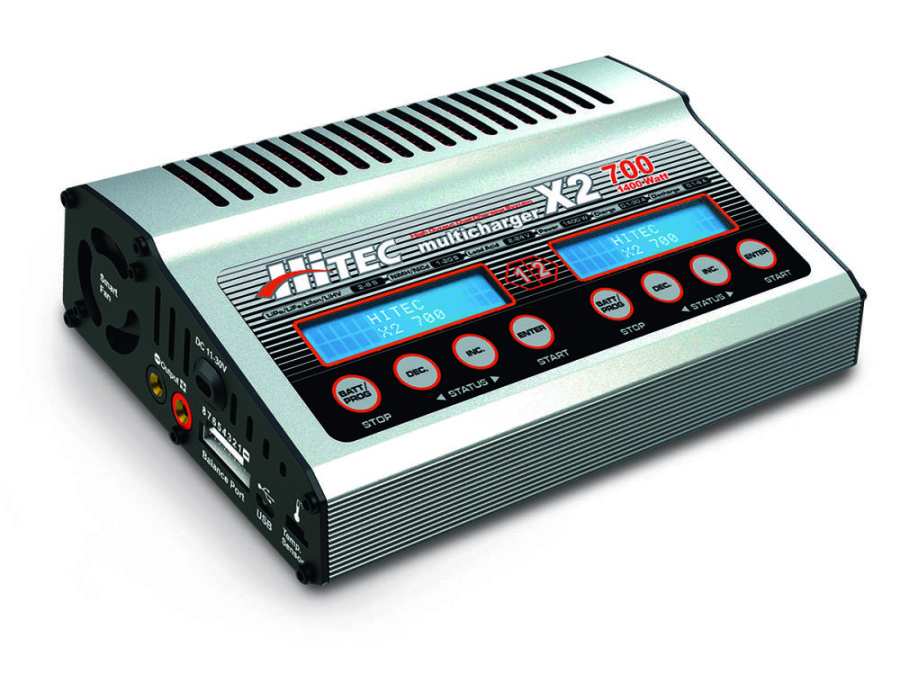 X2 700 – DC/DC Multicharger | Est. Street Price – $214.99 | Stock# 44239
Features:
Twin Channel Charger with Two Independent Circuits
Input Power Source: 11-30V DC
DC Mode Output: 700W Port A; 700W Port B.
Total Maximum Output: 1400W
"Charge Master" Software for PC Interface
Synchronous Mode for Setting Both Charge Channels thru Channel One
Charging Specifications:
DC Input Voltage: 11 – 30 Volts DC
Total Charge Circuit Power: 1400 Watts (700 Watts x 2)
Charge Current Range: 0.1 – 30.0 Amps x 2
Discharge Current Power: 30 Watts x 2
Discharge Current Range: 0.1 – 5.0 Amps
Current Drain for LiPo Balancing: Max 800mAh per cell
NiCd/NiMh Battery Cell Count: 1 – 20 cells
– Capacity Range 100 – 50,000mAh
LiPo/LiHV/LiFe/LiIon Cell Count: 2 – 8 cells
– Capacity Range 100 – 50,000mAh
Pb Battery Voltage: 2 – 24 Volts
– Capacity Range 100 – 50,000mAh
New Weight: 2.69 lbs. (1220g)
Dimensions: 7.9 x 5.5 x 2.2 in. (200 x 140 x 55mm)
Check on out for yourself right HERE!