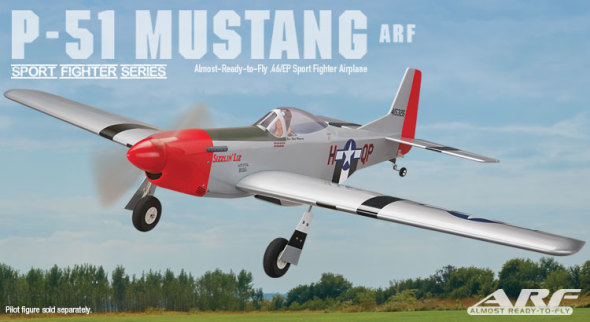 The P-51 Mustang is one of the most recognized fighters from World War Two.  Just about everyone into aviation has dreamed about taking the controls of a P-51 and cruising the countryside in mock dogfights using the power and speed of the design that was ahead of it's time.
Great Planes has released a new p-51 Mustang model that lets modelers jump into this iconic warbird without the cost and fear of a giant scale masterpiece. Choose between electric and glow power systems with all the hardware included to install either setup to get you into the air quickly.
GPMA1208
Wingspan 52 in (1320 mm)
Wing Area: 550 in² (35.5 dm²)
Weight: 5-5.75 lb (2270-2610 g)
Wing Loading: 21-24 oz/ft² (64-73 g/dm²)
Length: 42.5 in (1080 mm)
Requires: 4-channel radio, 5 servos, .46-.55 cu in engine OR 42-50-800kV brushless outrunner motor, 45A ESC (min) and 4S 14.8V 3800mAh LiPo battery.
Find out more about the Sport Fighter Mustang at Great Planes