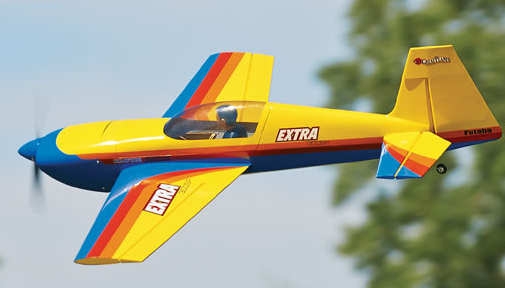 Overview:
A favorite at airshows and competitions around the world, the Extra is a contemporary aerobatic airplane with graceful lines and the ability to execute a wide envelope of thrilling maneuvers. Great Planes has replicated the 300SP in both looks and performance, and final assembly is easy and straightforward. The model's colorful appearance is truly eye-catching, and its aerobatic potential is impressive — including 3D action when equipped with a 4S LiPo battery!
Specifications:
Wingspan: 50 in (1270 mm)
Wing Area: 478 in2 (30.8 dm2)
Weight: 3.5-4.0 lb (1590-1810 g)
Wing Loading: 16-19 oz/ft2 (46-49 g/dm2)
Length: 47.8 in (1215 mm)
Strong, lightweight design.
Painted fiberglass parts.
Large battery hatch.
Removable wing panels.