From Fly RC Magazine: We always seem to "love" our newest toy, though after a while, they tend to become just another aircraft in the fleet. This Christian Eagle is different.
| | |
| --- | --- |
| Â Great Planes Christen Eagle (2) | Great Planes Christen Eagle |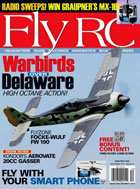 The Fly RC Team reviewed Great Planes Christen Eagle for our December 2011 Issue. For the full review, including how the airplane performed in our test flights, expert tips to get the most out of your model, detailed shots of the airplane's features and our reviewer's overall impressions, click here to purchase this issue.
Links:
APC Propellers, distributed by Landing Products, www.apcprop.com
Bob Smith Industries, www.bsi-inc.com
Futaba, distributed exclusively by Great Planes Model Distributors, www.futaba-rc.com
Great Planes Model Distributors, www.greatplanes.com
O.S. Engines, distributed exclusively by Great Planes Model Distributors, www.osengines.com
PowerMaster Hobby Products, www.powermasterfuels.com