WORDS AND PHOTOS BY MATT MAZIARZ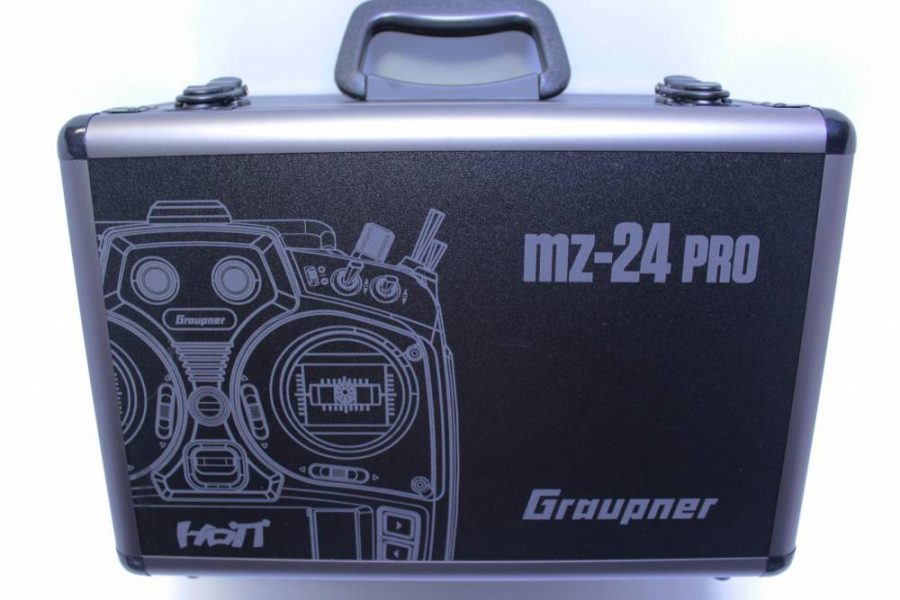 So let's say you're in the market for a new radio system, but aren't sure exactly which direction to go. Of course, you could go with the latest and greatest from Futaba, the 18MZ's. Futaba has been around forever and in purchasing one of their radios, you know you're getting a great product … but at a steep cost. Something to the tune of $3000 is what you'll pay for that system. For a bit less, but with the same basic features, one could jump into the Spektrum DX20. Spektrum is great stuff as well, though there was a "service bulletin" concerning the DX20 after its initial release, so take that for what you will … as you're shilling out more than $1000 for that system. Truth be told, both the DX20 and 18MZ's only come with one receiver each, so if you're looking to revamp your entire hangar with the new system, you're gonna have to take out a small mortgage to outfit all your models with comparable receivers.
I'll let y'all in on a little secret. There's another radio system out there, from a manufacturer that has been around longer than Futaba, that's less than half the price of the other two aforementioned systems, that has all the features one could ever want, that includes three receivers right out of the box, that features full touch-screen menu navigation, that has 4096 resolution, that is telemetry capable and also has an amazing feature in the Auto-Trim function. Well, that's just scratching the surface of the Graupner MZ-24 Pro and to top it all off, it comes with its own hard case, is fully updatable and can accommodate up to a 32GB micro SD card for jamming out to the sweet sounds of your favorite tunes via the onboard MP3 player while flying … and it's all available for less than 500 freakin' bucks!
NEED TO KNOW:
MANUFACTURER: Graupner
DISTRIBUTOR: Graupner USA
WHO IT'S FOR: Anyone
PRICE: $469.99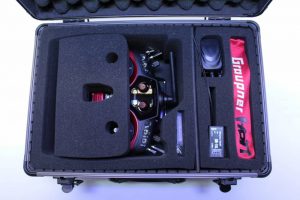 PROS:
Auto-Trim feature
Includes three receivers
Touch screen
Telemetry capable
Hard case included
Two year warranty
CONS:
Programming is a bit different than any other system
Limited brick and mortar support
WHAT'S IN THE BOX
MZ-24 transmitter
(2) GR-12L receivers
(1) GR-16L receiver
USB cord and adapters
Neck strap
Manuals
4GB micro SD card
5000mAh LiPo with charger
A hard case to keep everything safe and sound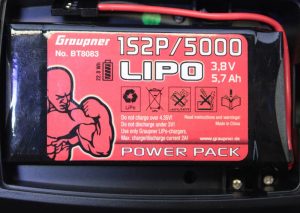 Let's face it, when it comes to superior engineering when concerning electronics, Germany is the cream of the crop. Since 1930, Graupner has been providing the world with quality electronics, stepping into the RC realm in the early 50's. They were also the pioneers of electric flight, owing many a great success (and failure) to the ways and forces of LiPo technology. In these modern days, production has been outsourced just like every other manufacturer, but the R&D is still based in the mother land.
Fast forward a half century and change and Graupner is still tops in the game when it comes to electronics, especially radio systems. The MZ lineup has been around for a while now, but the pinnacle of all the years of hard work is the shiny, lustrous, red MZ-24 Pro. It packs a host of features that top-dollar systems boast, but at a fraction of the cost. Follow that up with a Two year warranty and you've got yourself a recipe for success in the RC radio world.
This particular MZ-24 comes in its own hard case, emblazoned with the Graupner and MZ-24 logos. The inside of the case has foam inserts for the radio, receivers, neck strap and pretty much anything else you'll need for the system. There is also a main divider that can be moved, should you choose to customize your case with some denser cut foam. For the $469.99 price tag, you also get two GR-12L 6-channel park flyer receivers and one GR-16L full range 8-channel receiver. The basic 12L retails for $33.90, so you can frugally update all of your models to the HoTT protocol with the MZ-24 Pro.
Already have an MZ-24, but you're bummed that you don't have the Pro version? Worry not as the older systems can be updated to the Pro software via the USB adapter. The MZ-24 Pro also includes all the programming cables needed for future firmware and software updates, so you can rest assured that your shiny new radio will keep up with the current trends as things progress down the road.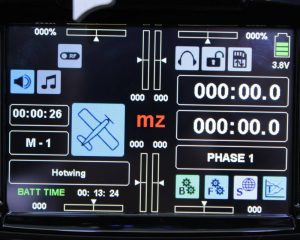 FEATURES:
12 fully proportional channels, all of which can be adjusted for different speeds and assigned to the multitude of switches, sliders and dials on the fronts, top and back of the MZ-24.
It's all about the Phases. Formerly known as Q.Links in Graupner radio programming, Phases can be set to effectively enact different trim settings for different phases of the flight, get it? For example, let's say you have a tricycle geared model that is fond of nosing over. You can assign a switch to enact a Phase during takeoff that will trim the elevator up a bit to keep the nose where it needs to be.
The Auto-Trim feature is just plain awesome. Assign it to any switch you like, take the model up for it's maiden, set it in a level attitude and flip the switch. Voila! All your surfaces are now centered in an instant!
Telemetry has become more of a standard than a luxury these days and the MZ-24 Pro is no exception. There are a number of different sensors you can equip your Graupner guided model with and you can decide exactly at what parameters and how those alerts are called out. You can also link multiple receivers together for redundancy on larger models, but still employ the telemetry modules on the last linked receiver.
Three receivers right out of the box means you can instantly convert your three most favorite models over to the MZ-24 Pro without any other purchases. One 8-channel and two 6-channel receivers are included with every Pro package.
A 5000mAh LiPo onboard means less time charging an more time flying, not to mention no having to fumble around with AA batteries.
It's always good to have options and the MZ-24 Pro has tons of them. There are loads of settings specific for heli or glider models that you won't find on other systems. Butterfly braking for gliders and Autorotation settings for larger helis are available and that's just scratching the surface.
The MZ-24 Pro is most definitely an aircraft system. After all, it features 12 channels and can be switched from modes 1 or 2. However, there are program features for airplanes, helicopters, sailplanes, drones, boats and cars (yes, some folks still drive cars with sticks). That means if airplanes or drones aren't your only bread and butter, this radio will keep you covered.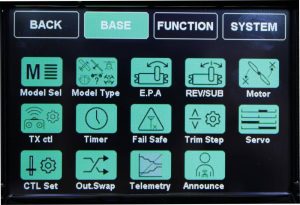 USING IT
If you've ever read any of my previous ramblings about radios and such, you know I'm already a huge fan of the Graupner systems. The MZ-12 is one of my favorite choices for FPV racers and other sport drones as it the GR-18 receivers double as a potent flight controller that is fully programmable. The simplicity of that setup on the model, however, was often a hard fought battle on the first few attempts as the Graupner programming is completely different than any other system out there. That's where the ease of the touch screen on the MZ-24 Pro comes in.
As Graupner states on their product brochures … "See it, Hear it, Touch it." That is to say; there are no jog dials, double buttons to hold or complicated menu selection processes. Basically, if you can use a smart phone, you can setup this radio. Right from the main screen, there are four icons on the lower right that will direct you straight to all the programming and telemetry menus you'll need. Within those menus, you'll find pretty much any feature you'd ever need for nearly any type of RC model. There are tons of wing and tail configurations to choose from, preset mixes, servo and motor testers, song lists (via an SD card) and pretty much any other function imaginable.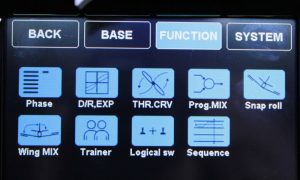 Physically, the MZ-24 Pro feels great in the hands. It is well balanced and not at all cumbersome, thanks to the light weight of the LiPo battery. Additionally, Graupner includes a balance handle for the neck strap, so you can pick and choose which orientation best suits your flying/holding style while it's in your hands. There are loads of switches and dials on the top of each side as well as two dials front and center. The back also features two sliders that are easily reached with your index fingers. All of the switches, dials and sliders can easily be assigned to any function and there is also a sequencer to make your scale models look and act the part when it comes to gear and gear doors … or any other function you might need to sequence (bomb bay doors and cargo drops, perhaps).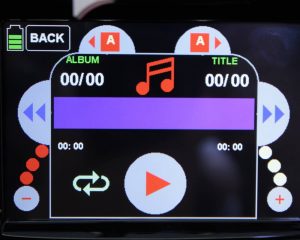 Personally, being a compact fella, I love the size of the MZ radios, the Pro included. I never pinch as my digits are a bit on the short side, but with both the MZ-12 and MZ-24 Pro, I can easily access all the switches and dials I need without disrupting my two thumbs while flying. The rounded grips on the back are comfortable and my hands never, ever tire or cramp while flying in Graupner style. Best of all, when all the other club members see me using the touch screen, they drool.
THE BOTTOM LINE
Look, I know everyone has their favorite when it comes to radio brands, but if you're in the market for a top of the line system that doesn't come at a top of the line price, the MZ-24 Pro is precisely what you need. It packs all the same features as the more popular other brands, at a fraction of the cost and does it all with way more style … plus it's freakin' German! The absolute only thing you'll need to get rockin' with the MZ-24 Pro is a screen protector so your grubby RC mitts don't scratch that beauty up.