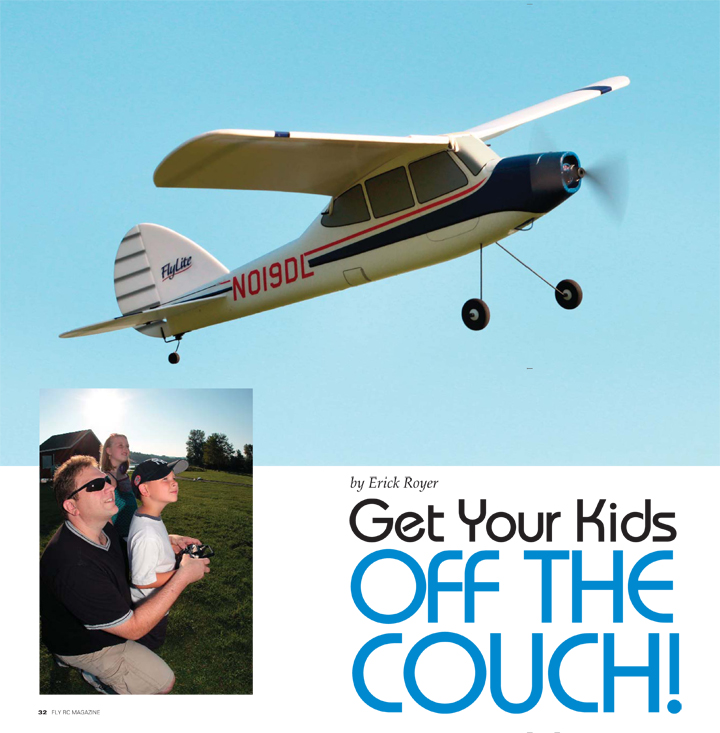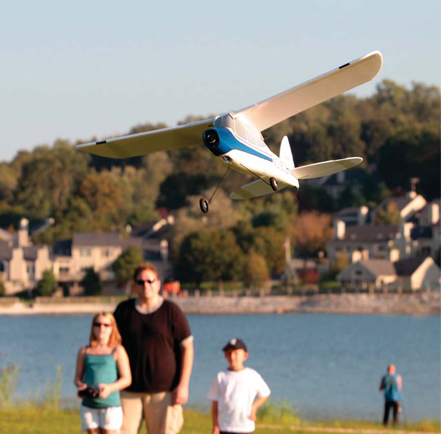 IM BORED!
How many times does a parent get to hear those wonderful words? I know I must have heard them 1000 times or more this summer.
My wife and I dont encourage our kids to sit in front of video games or the television for hours on end. We are always looking for new things we can do with our children, especially things that they can use over and over and actually learn something, in addition to having fun.
However, we do not like to spend a ton of money on something only to find out that they lose interest or worse yet, destroy it. I have wanted to get my kids involved in flying model planes for some time, but the planes I typically fly are too advanced, and I dont have a lot of free time to repair a balsa trainer in the event of a crash. After talking with people around the Fly RC office about what would be a good model to teach my kids to fly with, I decided on the Electrifly FlyLite Rx-R. The FlyLite received rave reviews as a durable, inexpensive and easy to fly model. The new Rx-R version is a very complete package, requiring only a battery pack and a 3-channel radio system. I chose the affordable new Tactic TTX404 2.4GHz 4-channel radio and an Electrifly 7.4v 640mAh battery pack to power the model. The Tactic radio system uses the reliable 2.4GHz band and can control more complex models as the kids into other 4- channel models.
The beauty of the FlyLite is that for minimal investment I can get my kids to the field and in the air with true hobby-grade RC products and very little worry about the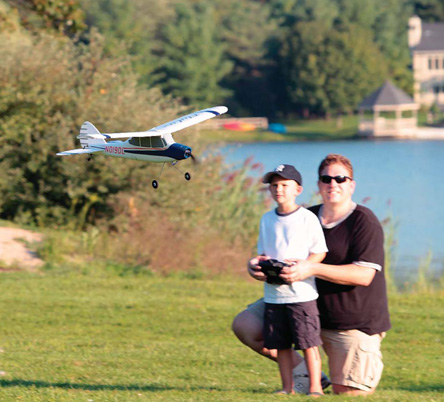 what ifs. What if they crash? What if they lose interest? The FlyLite is constructed with an Aerocell foam fuselage and a onepiece Pro-Formance foam wing that are both extremely durable and easy to repair in the event of any mishaps.
AT THE FIELD
On the first calm and sunny afternoon after I got the model and set it up I told my two oldest children, Alexis (age 10) and Daniel (9), that I had a surprise for them. Of course they perked right up. When I told them it was a radio control airplane, my son was excited. My daughter Well, lets just say it was not as exciting for her as a shopping trip to the mall for clothes. Despite this, I was determined to show Lexi how much fun flying model planes could be.
They spent some time on the Real Flight simulator with me already, so they had the basic knowledge of what the controls do and how a model reacts. I must say I am glad I had them on the computer first because no matter how durable the FlyLite is, nothing could handle the abuse they put these virtual models through. The main thing I found was that most beginners had a tendency to over-control the models on the computer. With some coaching on using small movements, my children were soon able to keep the model in the air on the computer indefinitely. If you do not already have a simulator for your computer, I strongly suggest getting one. You can visit find.flyrc.com/031101 for a list of computer simulators available on the market.
When we got to the field, we reviewed the flight controls once again and I made a short initial flight so they could see that the model would actually fly. I am not a big fan of the buddy box method of training someone how to fly. With children, I prefer the reach around method. I like them to be able to control the model. If my assistance is needed I can put my thumbs over theirs so they can feel what I am doing.
Daniel took the controls first and because the grass was a bit on the tall side, I had him apply some power and then gave the model a gentle toss. To his amazement, he was actually flying. I knelt down behind him with my hands ready to assist and he was flying in circles by himself with the assistance of my verbal coaching.
Lexis interest level immediately started to change. We went from a sarcastic, Oh boy, airplanes to Is it my turn yet? After about five minutes, I took control so I could land and give Lexi a turn. With the same gentle toss, the model was again in the air with her at the controls. She was a little more active on the controls at first and we were laughing as the plane was all over the place. I was amazed at how well the FlyLite put up with the bouncing around. It was very stable and had no bad tendencies to stall or spin. Trust me, she put it to the test. With some coaching to go easier on the controls she was soon comfortable and flying up, down and in circles. I think I am on my way to starting a girls in RC trend.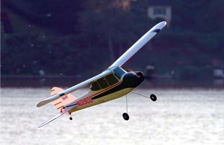 The kids were having a blast with the model and even with the few mishaps we had, there was no damage to cut our flying day short. A couple of the crashes they had would have resulted in total destruction of a balsa airplane, but not with the FlyLite.
CONCLUSION
As a parent there is no greater joy than spending time with your children and watching them grow as they learn new things and praising all their accomplishments. It is also wonderful to be able to share my hobby (and profession) with them as well. There are a lot of valuable traits that children can learn from flying model planes such as hand-eye coordination, patience, and basic aeronautics. Additionally the time spend with them enjoying the hobby is priceless by any measure. Thanks to the Electrifly FlyLite, I succeeded in sharing my hobby with my children and developing a new activity that we can share often.
Links
Electrifly, distributed exclusively by Great Planes Model Distributors, www.electrifly.com, (800) 682-8948
Flyzone, distributed exclusively by Great Planes Model Distributors, www.flyzoneplanes.com, (800) 682-8948
Tactic Radios, distributed exclusively by Great Planes Model Distributors,  www.tacticrc.com, (800) 682-8948