There are some changes at Paradise Field for Florida Jets 2014 that are sure to please all Pilots and Vendors. First, there is a brand new, "Paved" runway, 700 feet by 50 feet with smooth grass overruns at each end. The runway is laid out true East-West. The new runway has a full length grass strip on its north side, running parallel, and adjacent, to it. This should help with any wheels up landings as well as satisfy those who prefer grass during other events held at this field.
The runway location is also changed. It is now south of the previous area, further behind, for those who don't have a clue where South is. In fact, it is on the other side of the "Ditch", so there is now far more room for everyone to park, and to have their trailers close by. This will allow a real Vendor Area as well, with plenty of parking for their supply vehicles and Motor Coaches.
As for the event itself, many didn't like that the flying had to stop at 5pm. Authorization has now been granted to fly till just about dark, which should occur around 6pm. Flying will continue to start at 9am. The event will start operations Wednesday instead of Thursday, and finish with the big Awards Dinner and Auction on Saturday night at the Eaglebrooke Country Club. To allow everyone time to get to the Dinner, flying operations will cease at 5:30 on Saturday only.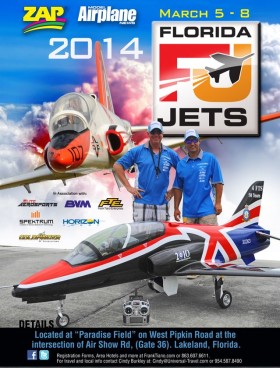 Click below to listen to the radio spot that advertises the event:

For more information, click on over to www.franktiano.com