This model is amazing in two perspectives.
1. As an instructor, I am constantly looking for a plane that will safely and quickly train new flyers. The Sensei is equal to the best "Trainers" that I have flown. It's core design gives it exceptional speed range, excellent responsiveness, short take off from grass, strong climb out and superb stability. In addition, the WISE 3 axis stabilization system gives it a safety factor that will reduce the number of training crashes and accidents.
2. This airplane does not stop being fun after it is finished training a new pilot. In the "Advanced Mode", it handles mild aerobatics superbly, flying through all of the basic maneuvers with grace and ease. The additional bomb drop compartment seems to highlight the fact that this airplane is going to be a whole lot more than a basic trainer!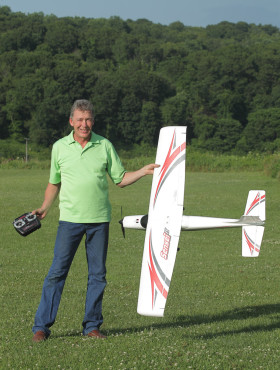 PILOT'S REPORT
Take off- The Sensei is super stable and takeoffs are easy from short grass or asphalt. Experimenting with the 3 modes of flight shows that the "Beginner Mode" will augment the take-off with a positive climb until you throttle back below 50%. The plane will then level off. It is amazing how well the accelerometers and gyros keep it perfectly on track and this mode keeps the pilot from exceeding 30 degrees of bank!
In the "Intermediate Mode", the plane does the same automatic gentle climb at 50% or more throttle, but the pilot has less restrictions in roll that allows banks up to 90 degrees.
In the "Advanced Mode" the pilot controls the climb completely and there are no restrictions on the angles of roll or pitch.
Normal flight-
The Sensei is delightfully stable and dependable in all axes of flight. One of the more unique features is the "Bailout" switch and this allows the pilot to recover the plane from unusual attitudes in a very efficient manner. I was really impressed at how smart this feature was, choosing to nearly always roll out of danger rather than use the elevator to pitch back to level flight. This saves precious altitude when often there is none to spare in training! Truly a great feature.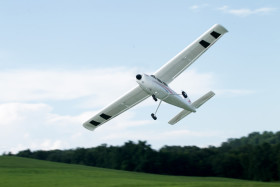 Landings-
All landings were picture perfect in our test model. There was plenty of flare left at the end of the approach and in experimental "Go A Rounds", the plane performed flawlessly and tracked like it was on rails.
Conclusion-
This plane has superb value. At the same cost as trainers that do not have half the technical features or basic stability, this model if sure to be a standard at flying fields across the country!
LINKS