The MVario2 is a system that measures atmospheric pressure and uses the obtained data to calculate the altitude above sea level, airspeed, and the rate of climb or rate of descent. Changes in the overall rate of climb or descent are signaled as well. The sensor also alerts you if any programmed alarm setting is exceeded. The sensor enables the use of an acoustic signal for the climb rate/descent rate or for exceeding the limit of a pre-adjusted value. The acoustic signal consists of four different kinds (steps) for climbing and for descending. The step width can be adjusted by the user. The climb signal consists of short interrupted tones, the descent signal consists of long permanent tones.
If you participate in competitions in  F5J or ALES (Altitude Limited Electric Soaring), the appropriate mode (F5J/ALES) can be set in the MVario2 menu. The standard firmware allows you to set the cut-off height and the maximum time of motor operation.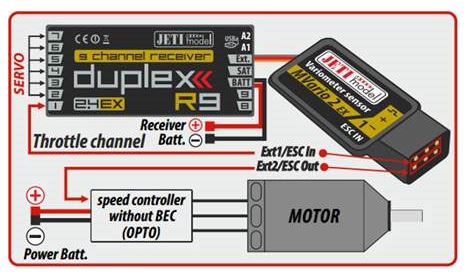 For additional information or to purchase, click through to Esprit Model!