This revolutionary, digital,  frequency hopping radio system is fully designed and manufactured by Jeti Model in the Czech republic. It is one of the most advanced radio systems on today's market. With a solid CNC aluminum case,fully integrated antennas, a mini USB port, built-in speaker, headset jack, plastic transmitter gimbals with Hall sensors (4096 step resolution) and  four ball bearings for precision movement, a large 320×240 backlight display and many other features, the Jeti DS-14s transmitters are sure to become a new standard in transmitter performance.
One attractive feature of the Duplex 2.4GHz line of products is the full integration with all Duplex telemetry sensors. A pilot can easily observe up to 20 (upgradable) different parameters in real-time directly on the transmitter. Or, by using the JetiBox Profi (sold separately), data is viewable in parallel mode, giving you and your co-pilot valuable real-time information.
One of the most important features of Jeti's transmitters is the gimbal and switch function assignment flexibility. With the DS-14, a pilot is free to fully customize their radio. They can swap switches or sticks (Mode 1-4) and the on-board computer will recognize the changes and assign functions anywhere the pilot prefers. Other notable upgradable functions include programmable Sounds/Alarms and user-recordable sounds. The audible alarm feature was specifically designed to keep pilots informed while keeping distractions to a minimum. A pilot can simply set a receiver battery capacity alarm for the desired capacity used, and once that number is reached the system will acoustically and visually gives warnings.
List of Upgradable Features for DS-14US Basic
· Channels (6 more)
· Accelerometers
· Flight Modes (3 more)
· Free Mixes (7 more)
· Graphs
· Audio Player
· Logical Switches
· Remote Commands
· Sequencer
· Timers (3 more)
· Display Telemetry Values (10 more)
· Sounds on Events (5 more)
· Alarms (10 more)
· Voice Output
· Gyro Setting (2 more)
· Servo Balancer
· Function Curves
· Throttle Limiter
· Variometer
· Telemetry Controls
Included:
(1) Jeti Duplex DS-14 Transmitter
(1) 110-230V Wall Power Supply
(1) Tx Battery Li-poly 3200mAh
(1) Mini USB to USB PC Cable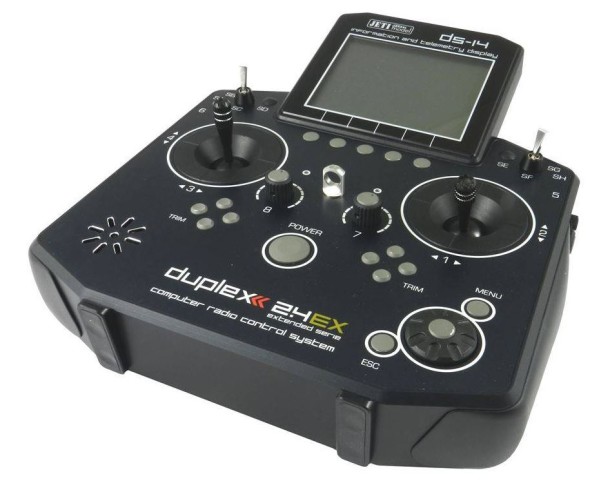 Click through to Esprit Model for more information or to purchase!