A new era of electric flight has arrived. New brushless motors and batteries are coming out of the woodwork—and their promise is immense. Will these eventually replace glow or gas engines? Not a chance. Our love affair with engines is enduring and engines of all types are huge in the tapestry of modeling history. The number of choices for RC enthusiasts is increasing at an incredible rate, and electric alternatives are proliferating.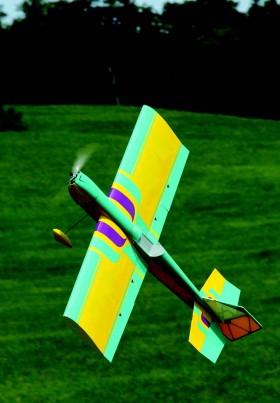 This issue we share two examples of leading-edge electrics at opposite extremes. Greg Poppel hops up Wild RC's indoor Mini IFO so that it can cruise around the gym or your front yard for well over an hour on a single charge (CLASSICS, pg.54). It can also fly straight up doing vertical rolls. This lightweight ship weighs only ounces and its composite construction makes it damage resistant. Then there are the dazzlingly powerful electric ships that weigh over ten pounds. Dave Baron's conversion of the Airborne Models Fun World 3D into a super electric aerobat (Project: 3D Super Electric, pg. 44) represents the current top-end in today's giant scale electric power. This is only the beginning—look to FLY RC to keep you posted on the latest.
HOBBYVISIONS SHOW IN LAS VEGAS
A new hobby trade show is being held at a family-friendly destination where you can see the very latest in RC—the October 9 – 12 HobbyVisions International show in Las Vegas (www.hobbyvisions.com). HobbyVisions International includes a special air show—open to the public, free admission— on Friday the 10th at the Bennett airfield, home of the legendary Tournament of Champions (TOC). Hobby enthusiasts are also invited to the Sands Expo Convention Center on Saturday and Sunday, October 11 – 12, to see new products and live RC demos. The prestigious DIY network and TV host Chris Chianelli will be on-site shooting footage. We hope to see you there!
OUR THANKS
Our first issue was warmly received and many sent letters and emails. We thank you for your enthusiasm and comments. This is your magazine—write or email and tell us what you want to see more of!
Loops and rolls,
Tom Atwood
toma@flyrcmag.com