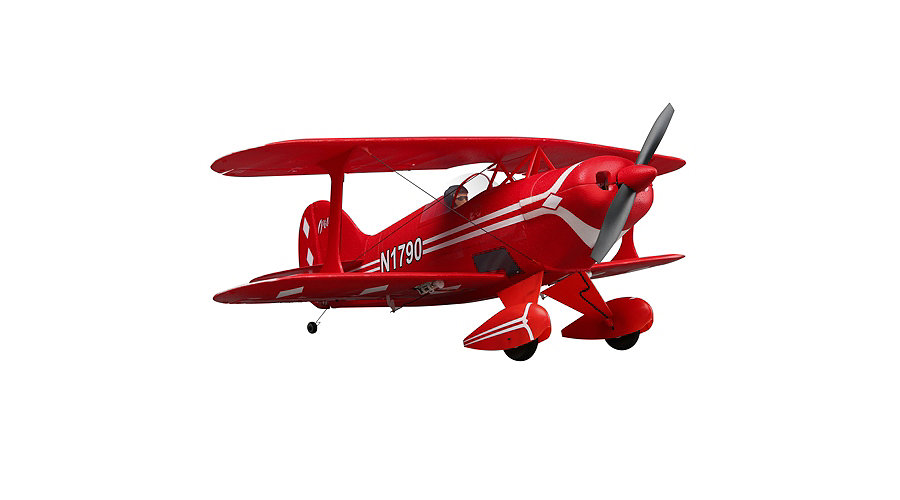 The E-flite® UMX™ Pitts® S-1S airplane makes it possible to enjoy the aerobatic icon of the century in your own back yard. Even more remarkable is how predictable this beautiful bipe handles. That's because its AS3X® system has been custom-tuned to deliver stability when you need it and agility when you want it. The result is a scale aerobatic flight experience similar to that of an expertly tuned giant-scale model. And the best news of all is that you can enjoy it right away because there's no assembly required.
SCALE CHARACTER
The UMX™ Pitts® S-1S is designed so that the distinctive scale character comes through without sacrificing the performance benefits of a light wing loading. Not only is detail like rib and stringer detents obvious, even the landing gear and tail wheel represent the celebrated features of an aerobatic platform many full-scale pilots still use to this day for aerobatic competition.
HIGH-OUTPUT BRUSHLESS POWER SYSTEM
The high-output brushless power system installed consists of an 180BL, 3000Kv outrunner motor and an E-flite® 5 x 2.75 propeller. Together they provide ample thrust for realistic scale aerobatic performance.
STATE OF THE ART ELECTRONICS
From the solid control of AS3X® system technology, to the crisp response of performance linear long-throw servos, everything about the UMX Pitts S-1S is about delivering a solid scale aerobatic experience. Even though it's sized to fly just about anywhere, you get the precision and performance to fly like you're in an air show.
THE SCALE AEROBATIC BIPE YOU'VE ALWAYS WANTED
The Artificial Stability – 3 aXis (AS3X®) system developed by Horizon Hobby is an electronic innovation that makes the RC flight experience better than ever. By developing a unique combination of multi-axis sensors and exclusive software, the AS3X system in the UMX™ Pitts® S-1S ultra micro biplane works behind the scenes while flying to provide instantaneous attitude corrections when turbulence, torque and tip stalls haphazardly interrupt the way you want to fly. The obvious benefit is an airplane that flies incredibly smooth but also delivers control that feels natural and utterly accurate. The result is an experience similar to that of flying a much larger, well-tuned scale model that's remarkably convenient to fly.
Key Features
Completely built and flight ready
AS3X® system provides great handling with amazing stability
Carbon fiber reinforced, lightweight foam construction
Steerable tail wheel for easy maneuvering on the ground
Four-channel, scale aerobatic maneuverability and control
Easy-access, forward battery hatch with magnetic attachment
Needed To Complete
– 4+ channel DSM2- or DSMX-compatible transmitter
– 7.4V 2S 150-200mAh LiPo battery
– 2S LiPo battery charger