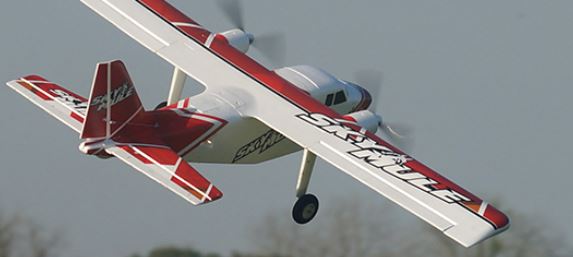 The SkyMule has been designed as an all purpose, all pilot model that is ready for land or snow right out of the box. With its generous internal spacing, twin engine layout and easy access design it is also ideal for carrying autopilot and FPV equipment as well as handling the weight of larger batteries for long flight times. Excellent for sport type flying and aerobatics, the SkyMule has a wide flight envelope allowing it to fly well both at fast and slow speeds. With two powerful 1100kv brushless outrunners, this model has plenty of get-up-and-go with plenty of vertical. Loops, rolls and inverted flight are not an issue at all with predictable flight characteristics. At a wingspan of 1500mm, it has a great presence in the air, but with removable 2 piece wings it is also easy to transport to and from the field.
As a platform for FPV is where the SkyMule really comes into its own. The fuselage has plenty of room to mount your equipment that is easily accessible from a huge side door. Included in the box is a FPV canopy allowing you to easily mount a camera keeping the nose out of shot. It also has a removable nose cone for mounting an FPV camera right up front and molded into the bottom is a hole for a camera for birds eye views. To minimize interference, there is also a removable hatch for mounting of FPV transmission equipment. A great deal of thought has gone into the design of this model and it is the most feature rich FPV platform on the market today.
To finish off the look of this truly utilitarian plane, included in the box are a set of skis which makes this model a lot of fun to fly off sand as well as snow in those winter months where your flying time is normally quite limited.
Features:
• Fast and easy assembly
• Beautiful EPO construction
• Pre-installed 3S powertrain offering ample power while keeping weight down
• Counter rotating propellers for no unwanted torque effects
• Clip-on wings for ease of transportation
• Two canopies – one for FPV, one for sport
• Removable nose for FPV camera
• Tricycle undercarriage with steerable nosewheel
• Optional set of skis for snow or sand
• Huge payload capacity
Specs:
Wingspan: 1500mm
Length: 1095mm
Flying Weight: Approx 1860g
Motor: 2 x 4023 1100kv brushless outrunners
ESC: 2 x 30A
Servos: 5 x 9g micro servos
Prop Size: 3-blade 10×8
Includes:
All hardware
Instructions
Requires:
4CH transmitter/receiver
3S 11.1V 2600~4000mAh LiPoly battery