Dress up that warbird with some authentic looking wheels.
Looking for some great scale wheels for that 1/5-scale Mustang? Perhaps an AT-6? Look no further than DaVinci Machining, as they have the most incredible scale-looking Mustang wheels on the planet. Their 10 Spoke P-51 Wheels feature the following details: highly detailed, custom, CNC-milled scale wheels with a glass beaded satin finish, with raised ribs around the openings and dips around the circumference; the rims squeeze the tires instead of just slipping into them; brass bushings; a 13/8 wide by 3-inch diameter wheels; 19/16 wide by 5.5-inch diameter tires that are made from lightweight foam with a hard outer coating for durability; scale lettering on both sides and a custommanufactured diamond tread pattern that is found on full-size Mustang tires.
All 10-spoke kits include two scale 304 stainless steel .25-inch diameter axles; two 5.5- inch-diameter, diamond-tread tires; two, scale CNC-machined wheels fitted to the tires and installed brass bushings with spare brass spacer collars.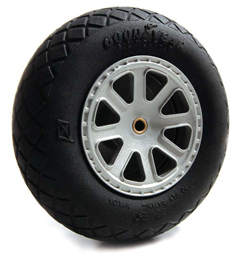 The aluminum wheels are in halves and they are held together with five 4-40 socket head cap screws that go through the backside so as to make them invisible. When you look inside through the spokes, you can see that the rims of the wheels do not meet, but the center sections do. The outer sections of the rim do the previously mentioned squeezing, which keeps the tire in place.
The other set of wheels DaVinci offers in the Mustang arena are the 10 Spoke Economy Wheels. These have a five-inch diameter tire, and the wheels are machined aluminum. They aren't as detailed as the previously mentioned set is, and the wheels are held together with four socket head cap screws. The tire tread is of the ribbed kind, and they don't have any of the scale writing on the sides of the tires, but the Du-Bro name does appear on the tire's sidewalls.
From here, the spoke count goes to six and eight, with the 6 and 8-Spoke Economy models having the same characteristics as the 10-Spoke Economy. The 6-Spoke Scale model has all of the features of the 10-Spoke, except for the raised-rib and dips on the hub's outer surface. The 8-Spoke w/Dips has all of the 10-Spoke's features. The 8-Spoke w/Ribs have all of the 10-spoke's features but not the dips around the circumference.
The last offering in wheels: No Spoke Economy Wheels would be perfect for a PT-17, BT-13 or an AT-6. They haven't any openings on the wheel's hub and the tires are 5-inch Du-Bros.
CONCLUSION
If you are looking for a true, top-shelf wheel set for your latest scale model project, DaVinci Machining has what you need.
Links
DaVinci Machining
www.davincimachining.com, (727) 525-0070