It is an amazing juncture in aviation history—December 17, 2003 is the centennial of the first powered flight by the Wright brothers. The great revolution they began at Kitty Hawk, NC continues to this day.
Since their first flight, there has been a fantastic progression of aviation "firsts" that also extends into the modeling world. An example is Henry Pasquet's 2.6-gram "Little Bit Electric," the world's lightest 3-channel RC airplane (Departure, pg. 162). Another is Ed Couch's scratchbuilt Wright Flyer replica (Indoor Runways, pg. 142). Ed's model features wing warping and counter-rotating props powered by a single motor, just like the original. Only very recently have technical advances in motors, batteries, servos and power systems made such pioneering designs possible.
If you have created an original RC design or airplane concept, email us images of your work. We want to share your "firsts" with our readers.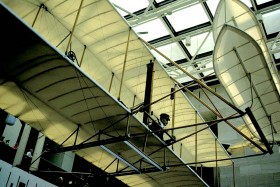 YOUR FIRST AIRPLANE
A trainer can make a great holiday gift for anyone who is starting out in RC. If you are learning to fly at the local club field, check out the Sig Kadet ARF (pg. 104). If you are earning your wings at the local park or schoolyard, take a look at the 2-channel Firebird Commander (pg. 52). With the right optional accessories, you can actually fly combat! The FlyZone Park Pilot (pg. 60) and the Multiplex Easy Star (pg. 56) are great 3-channel beginner ships reviewed this issue. You'll find many more products here that will make great holiday gifts!
WE ARE MONTHLY!
We have been so well received that Fly RC is going monthly with this issue. We thank all who have supported us and we look forward to bringing you more product reviews and the latest RC news. All charter subscribers will get their full annual subscription at no additional charge. We will continue including pullout plans every other month. This is your magazine—keep us posted on what you'd like to see more of in Fly RC!
Loops and rolls,
Tom Atwood
toma@flyrcmag.com